A line is perhaps the most important piece of fishing equipment in your rig. It's going to impact a lot – what waters you will be able to fish in, with what styles of lures/bait, for what sizes of fish, and much more.
Today, we want to help you with choosing the best fishing line for trout. To this end, we will first showcase 10 lines that we think are worthy of your attention and also perhaps your money. We'll look through what makes our picks good and in what situations they would work the best.
Then, we'll also talk about available fishing line types to help you better understand our reviews. As a finishing touch, we'll give you tips on choosing the right line for catching trout.
Well, Let's take a quick overview and then get started with the details.
FLUOROCARBON

BRAIDED

MONOFILAMENT

Nearly invisible to fish.

Excellent abrasion resistance.

Available in multiple strengths.
Good abrasion resistance.

Zero stretch and excellent feel.

Great casting performance.
Stretchy and shock-absorbent.

Makes excellent knots.

Low visibility.
Check Price
Check Price
Check Price
10 Best Fishing Line For Trout
Seaguar Blue Label Fluorocarbon Leader Fishing Line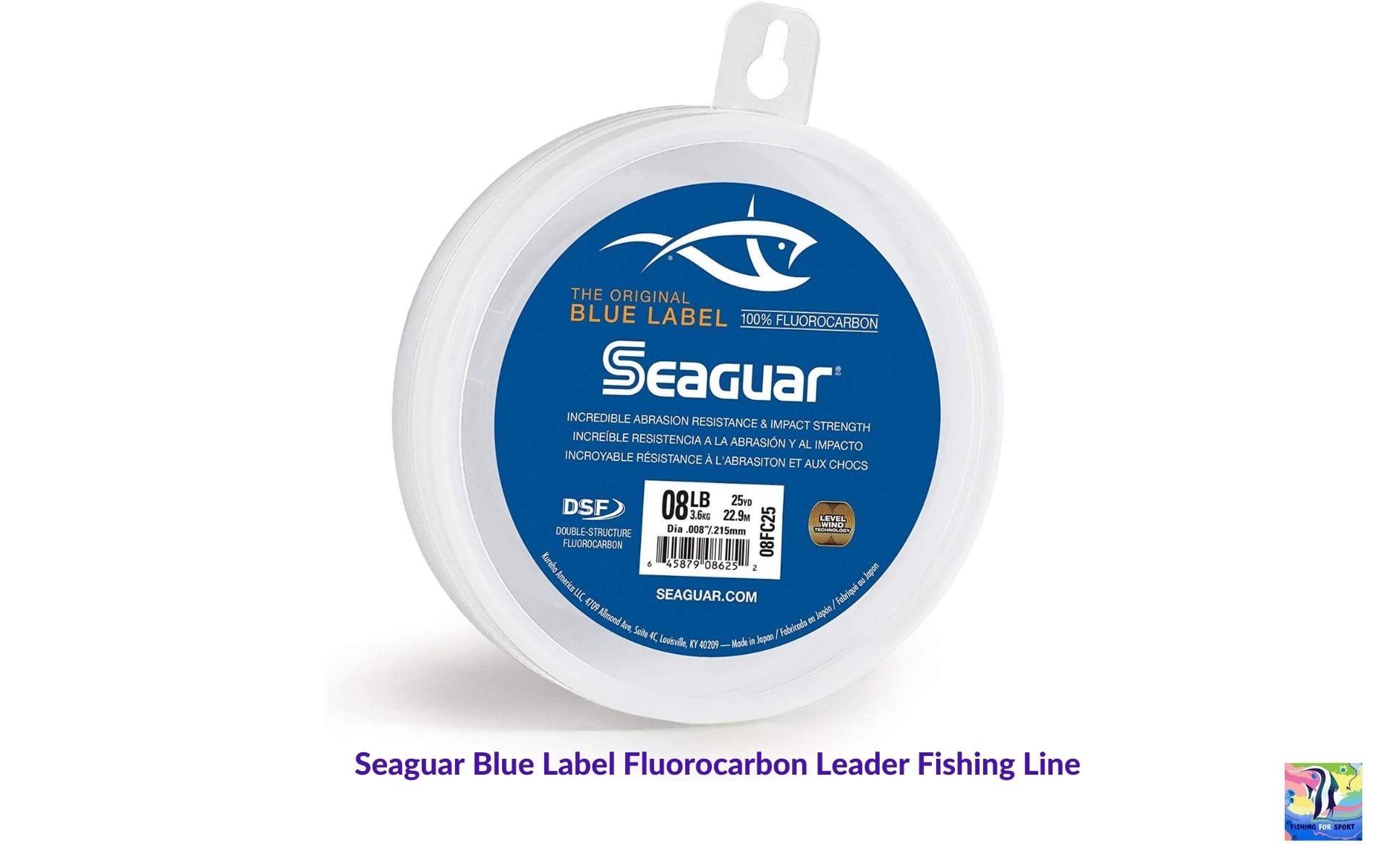 If you want to use a braid or mono main but something with less visibility as a leader line, then this fluorocarbon from Seaguar is an excellent choice. It includes 25 yards of line, which should be enough for multiple trips.
Fluorocarbon lines are excellent for trout. They are nearly invisible to fish in water – given that trout have great vision, this is a huge benefit for trout fishing. Their abrasion resistance is also high (especially in leader lines), which makes them excellent around fish structure.
Seaguar offers this line in multiple strengths as well, so it could be used for trout of different sizes, as well as perhaps other fish species.
Pros
Nearly invisible to fish.
Excellent if you will be using other line styles in your main.
Excellent abrasion resistance.
Available in multiple strengths.
---
KastKing FluoroKote Fishing Line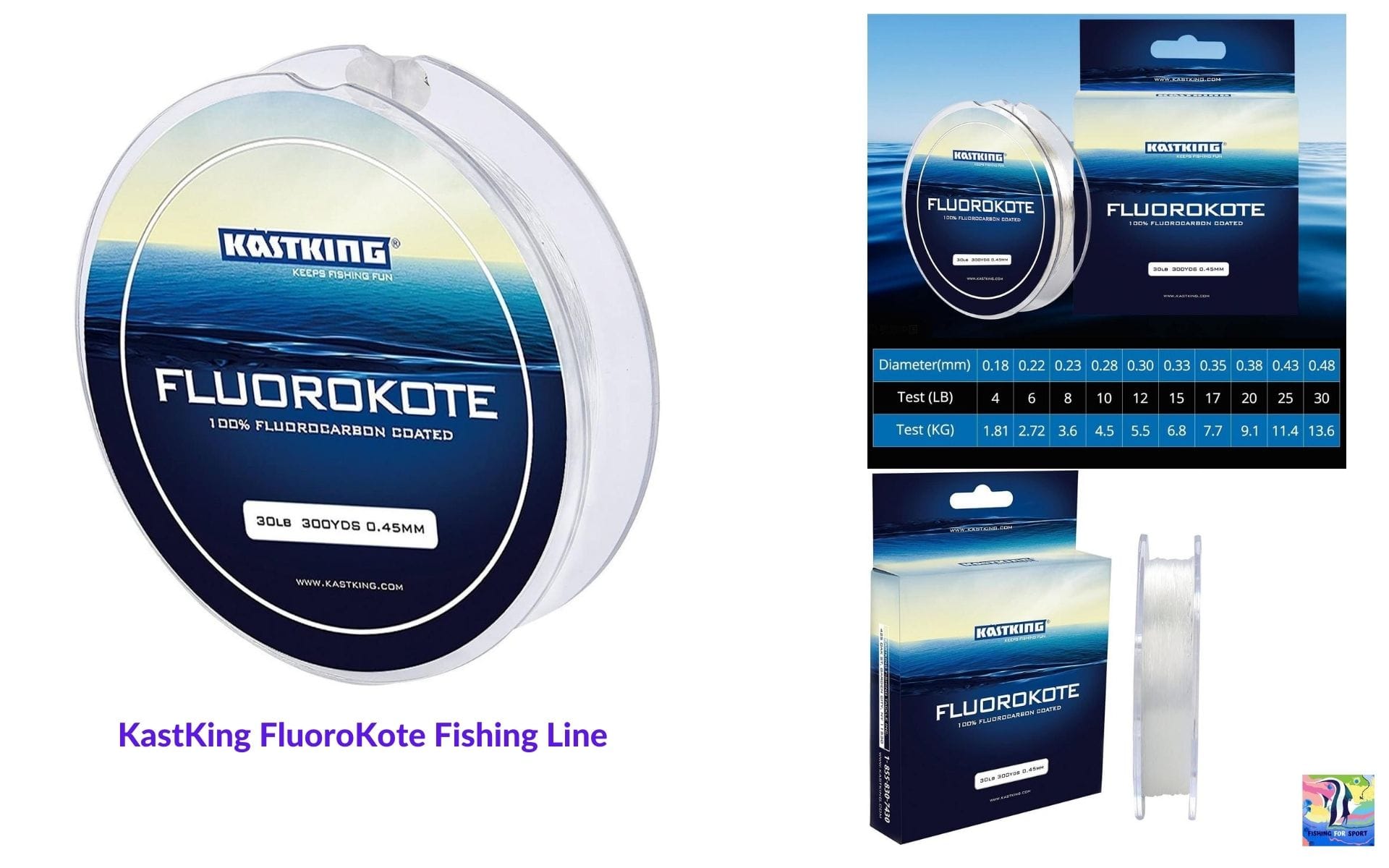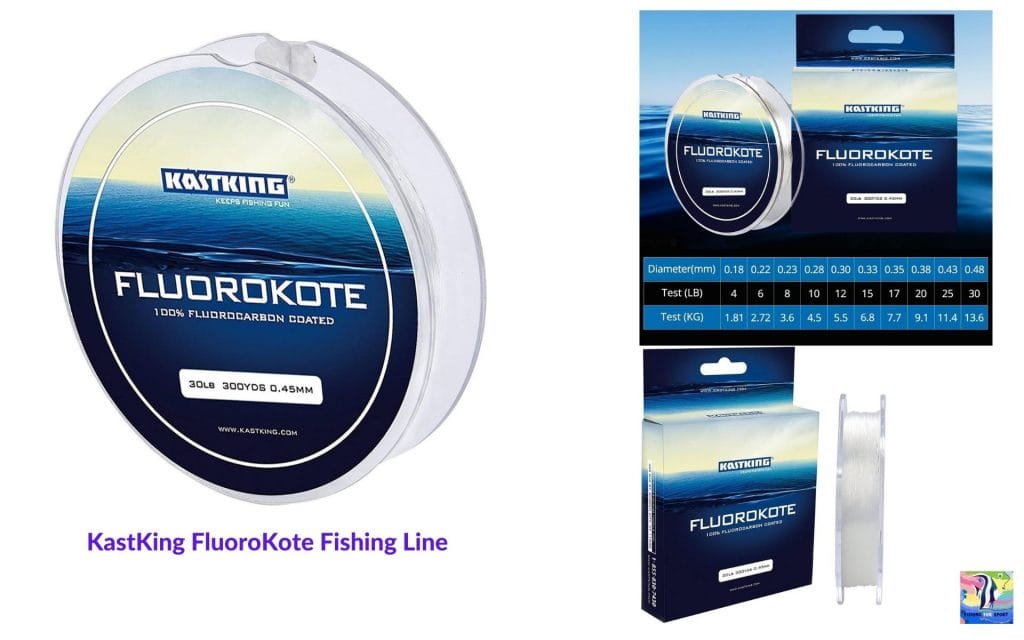 The KastKing FluoroKote fishing line is a combination of the KastKing Copolymer fishing line with a fluorocarbon coating. With that, this fishing line isn't 100% fluoro line, so it may not perform quite as well as one.
With that said, this line still delivers the benefits that fluorocarbon lines are valued for, including abrasion resistance, low visibility, and low stretch. The memory of this line appears to be lower than in standard fluoro line too.
Because this isn't a fully fluorocarbon line, it's rather pocket-friendly. There are plenty of strength options available as well, so you should be able to find something right for your trout fishing day.
Pros
Rather inexpensive.
Low stretch, excellent abrasion resistance, and low visibility.
Sold in multiple strengths.
Cons
Not really a true fluoro line.
---
Berkley Vanish Fluorocarbon Fishing Line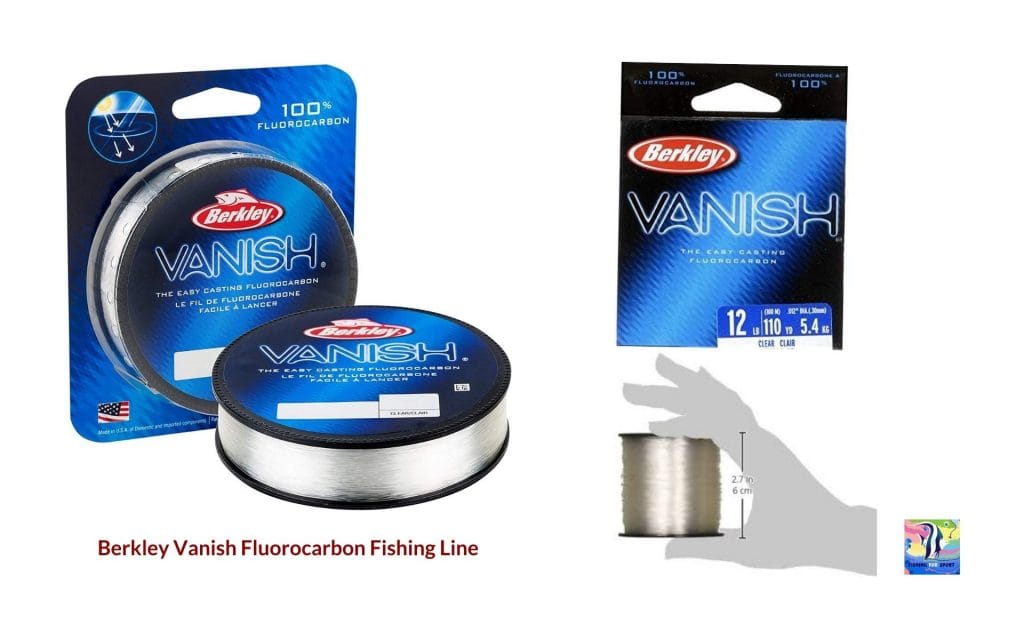 Berkley's Vanish is one of the more flexible fluoro lines on the market. Berkley even claims that it's the most flexible you can find!
Whether this is true or not, Vanish does seem less stiff and lower-memory than the typical fluorocarbon line. So if you hate the stiffness of standard fluoro, you may like this line.
Berkley also offers its Vanish fluorocarbon fishing line in multiple styles. First up, you have a regular line to use as a main and also a more abrasion-resistant leader variant. Next, Vanish is available in multiple strengths and lengths, so it should work for pretty much any fishing situation.
Pros
Less stiff than typical fluoro lines.

Relatively low memory.

Very low visibility.

Available in a wide range of lengths, strengths, and styles.
---
RUNCL PowerFluoro Fishing Line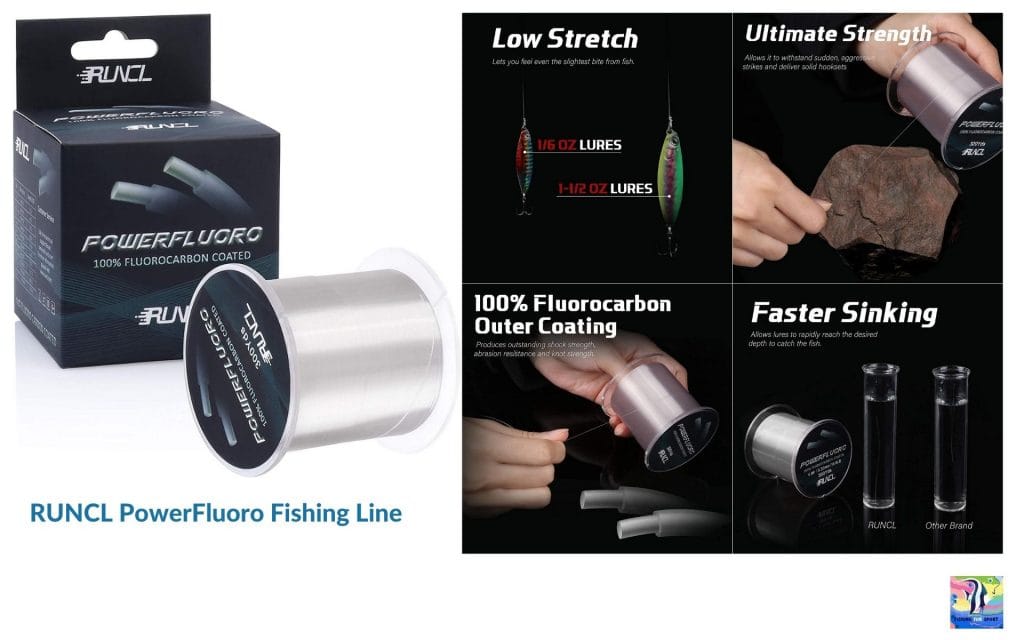 The RUNCL PowerFluoro is similar to KastKing's FluoroKote in that it's also a fluorocarbon-coated copolymer line. With that, it's cheaper than full-fledged fluoro but retains its main benefits.
Needless to say, you probably shouldn't expect the same low visibility and durability as from standard fluorocarbon lines, but PowerFluoro is very solid for the price.
Interestingly, RUNCL advertises this as both a main and leader line. It seems to work well in both roles, but it appears not to be a true leader line with extra abrasion resistance. For some people though, this won't be a problem.
Pros
Relatively inexpensive.

Plenty of sizes and strengths.

Very low visibility.

Great abrasion resistance.
Cons
Only the coating is fluoro – the rest is a copolymer.
---
KastKing Copolymer Fishing Line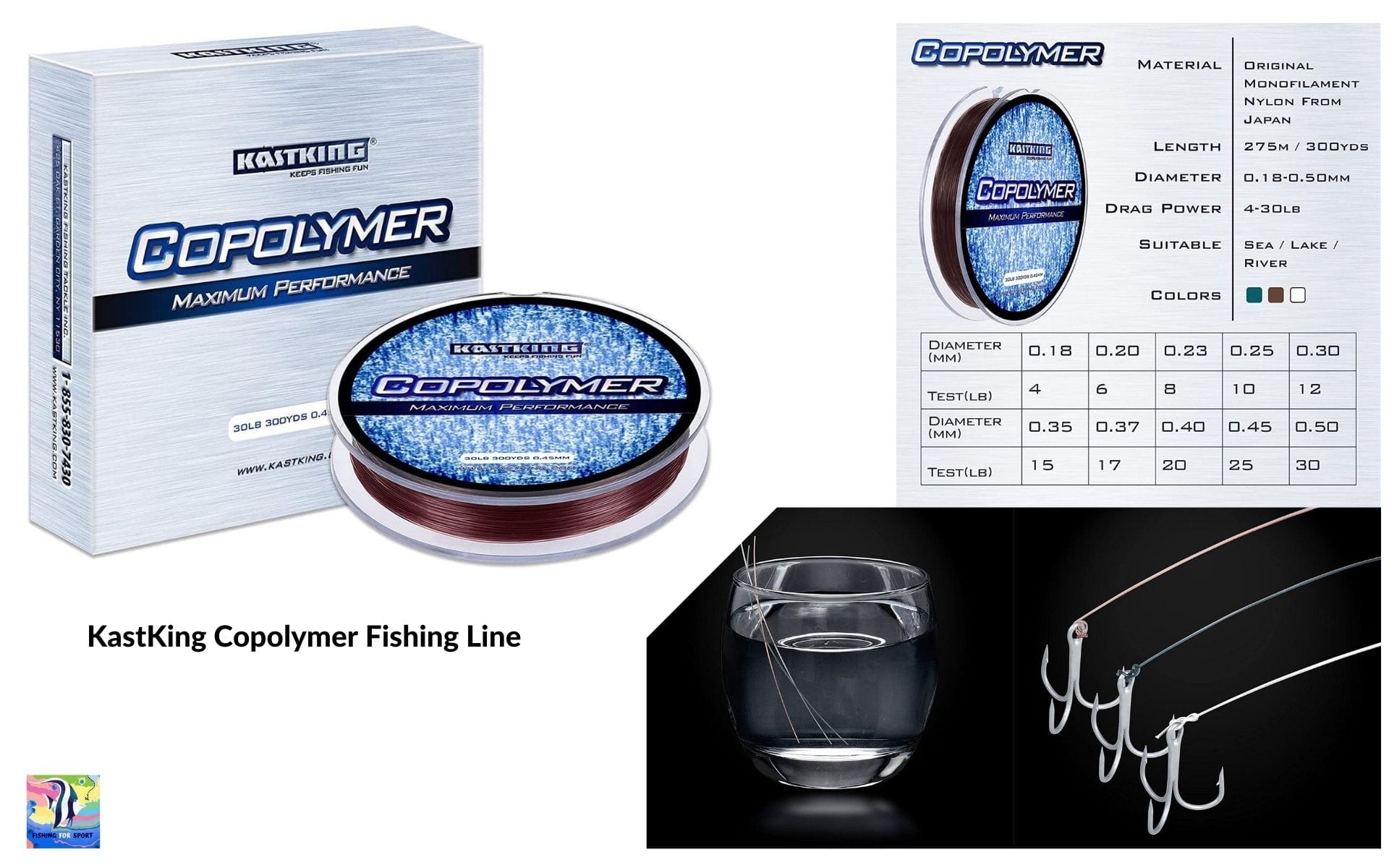 The KastKing Copolymer fishing line is the line used in the KastKing FluoroKote line reviewed earlier. Without the fluorocarbon coating, the Copolymer line doesn't have the same low visibility and durability as FluoroKote, but it's cheaper and still offers decent performance.
At its core, this line is a mono nylon fishing line. However, thanks to its copolymer design, this line offers better abrasion resistance, lower memory, and better casting performance than standard mono lines.
The Copolymer line also has a decent amount of stretch along with shock absorbance, but lower than in pure monofilament lines. And all in all, this line is a solid middle-ground option between fluoro and mono lines.
Pros
Good amount of stretch and shock absorption.

Solid abrasion resistance.

Low memory.

3 colors and a few strengths available.
Cons
Nothing to complain about.
---
KastKing SuperPower Braided Fishing Line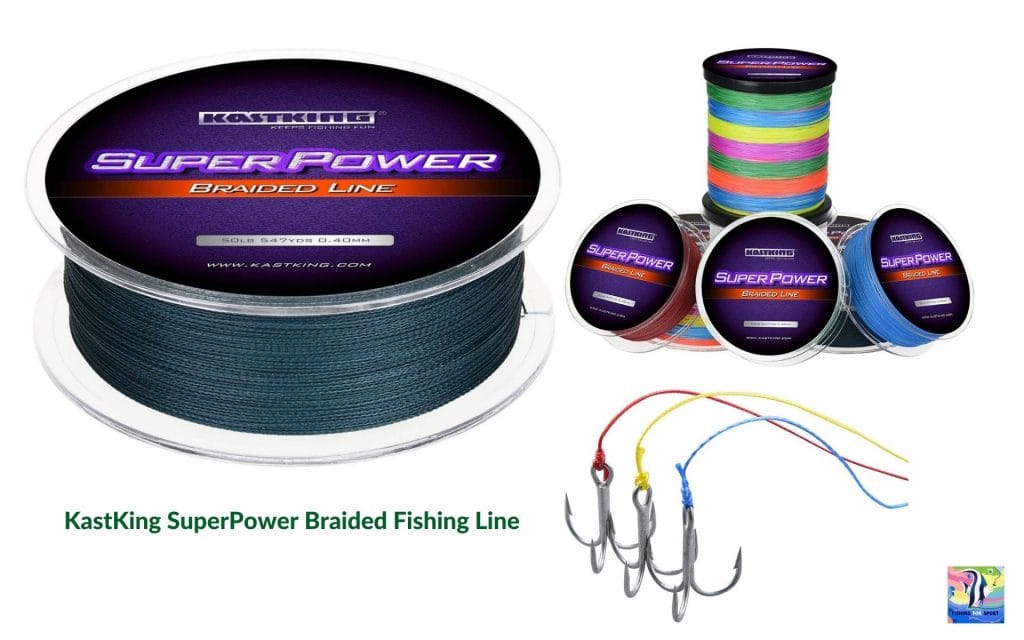 Braided lines like KastKing's SuperPower are excellent for bottom fishing, fishing around structure, or other situations where mono line may snap from stress. Thanks to its zero stretch, this line delivers excellent feel and sensitivity – typical for braids.
The memory of SuperPower is very low as well, while the casting performance is excellent.
This braid line is also available in various colors, sizes, and strengths, so there's a lot to look forward to with SuperPower. However, note that this line may be thicker than some other braids. It's also not ideal as a leader line for trout fishing due to its high visibility.
Pros
Not too expensive for a braid.

Good abrasion resistance.

Zero stretch and excellent feel.

Great casting performance.

Very low memory.

Multiple colors and a huge variety of sizes and strengths.
Cons
Very visible in water.

Bleeding colors.

Thicker than many other braids of the same strength.
---
Power Pro Spectra Fiber Braided Fishing Line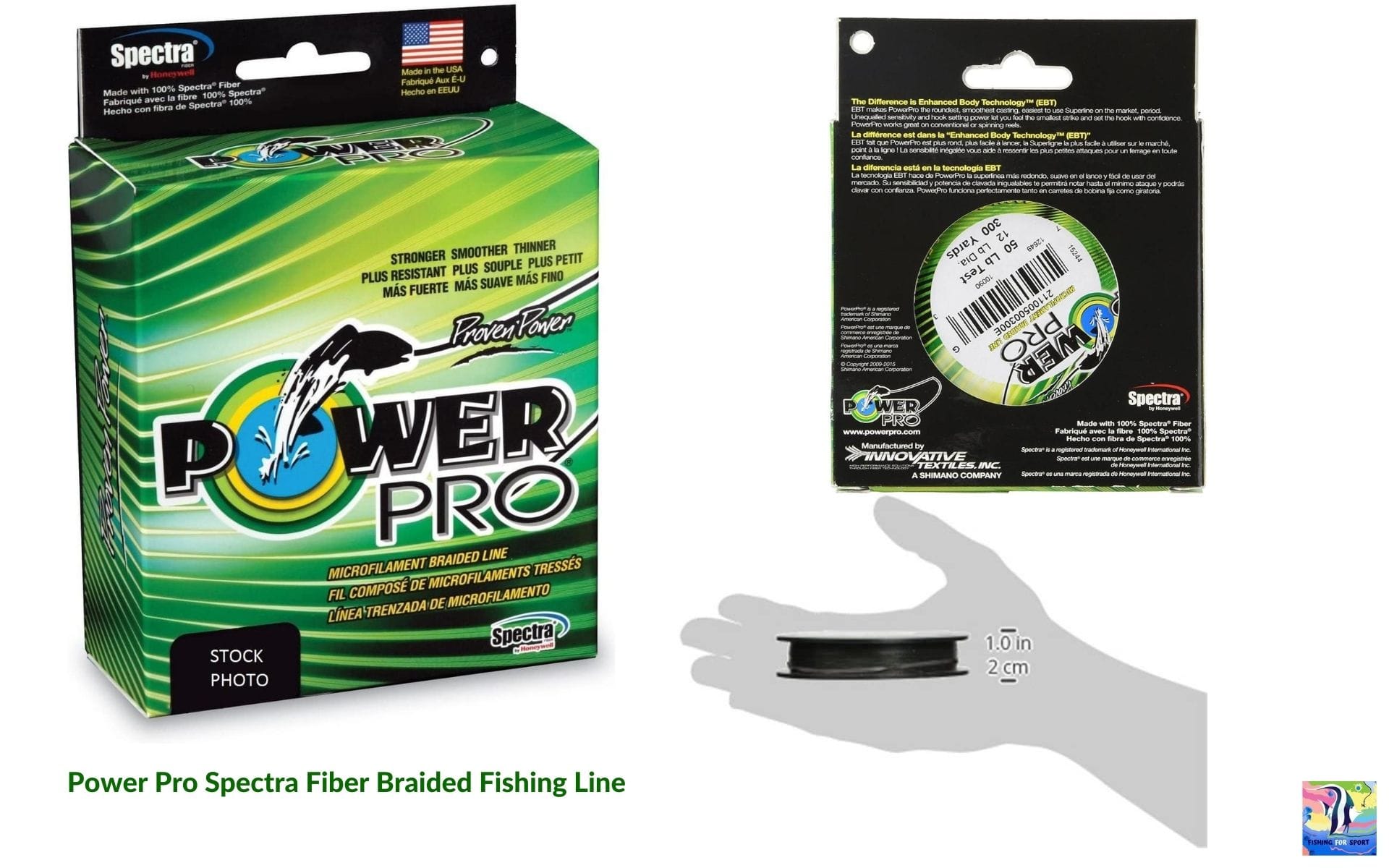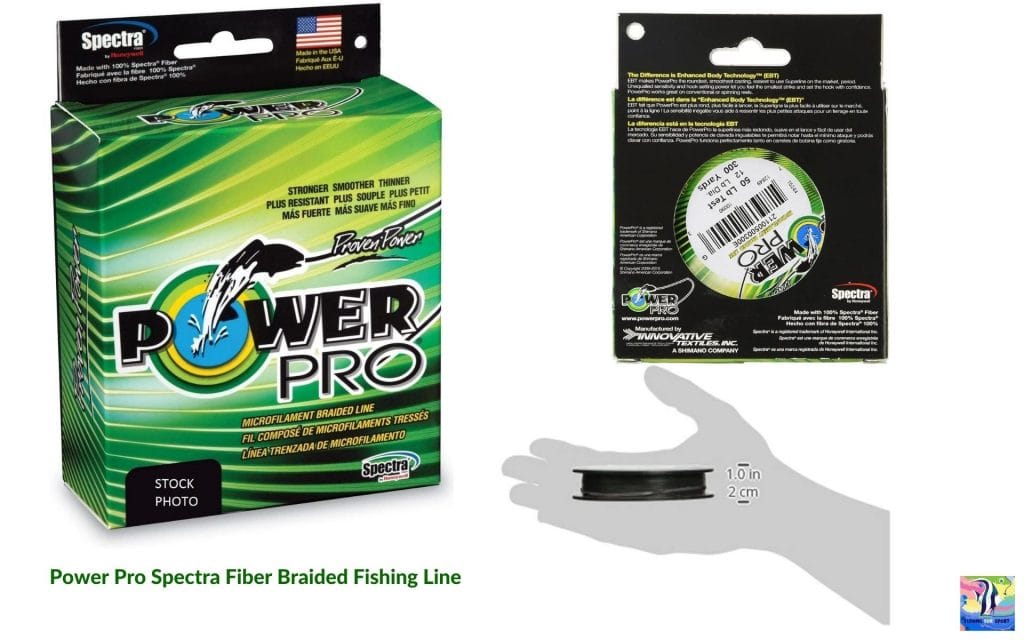 Not every American is willing to buy Chinese-made products – however, if you are an angler, Power Pro Spectra is one of the best braid lines you can find. It's rather pricey, but it's worth it.
Spectra offers the typical benefits of braided lines, including very low memory, low stretch, excellent casting performance, and excellent feel. However, it boasts great quality and will stay like new for much longer than something like KastKing SuperPower.
It's very thin as well, so you could use more line on your reel than with, say, the SuperPower braid.
Pros
A lot of colors and styles available.

Excellent quality and durability.

One of the best braids you will find – if you have the money.
---
Stren High Impact Monofilament Fishing Line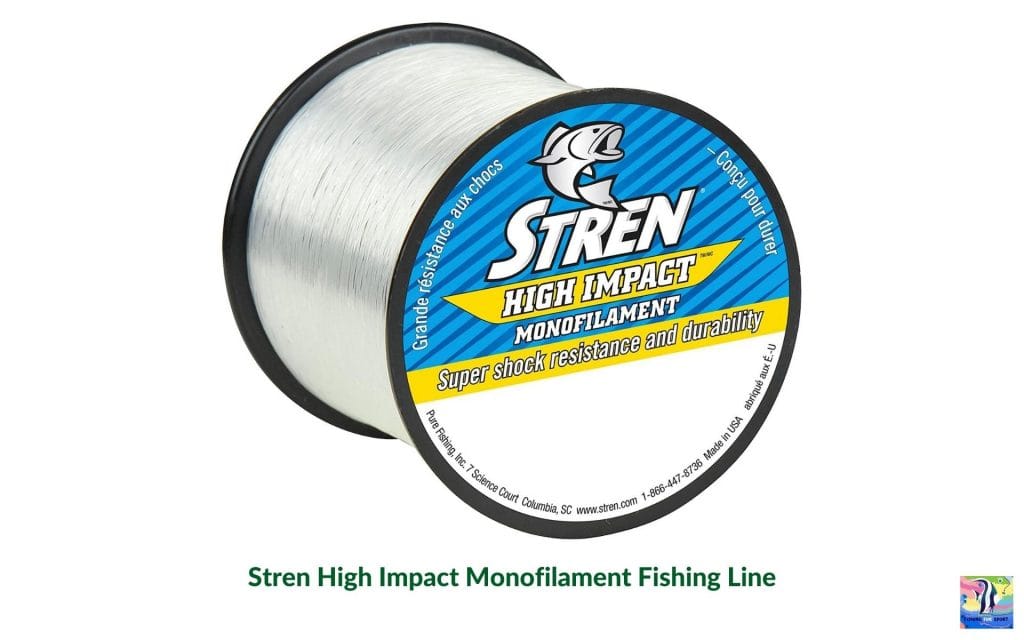 The Stren mono fishing line is a great choice for most anglers. However, it's particularly good for situations where shock absorbance is critical, e.g. when trolling or fighting fish.
This mono line is very cheap as well, so it's great for beginners and anglers on a budget.
When it comes to trout, the Stren mono line is great thanks to its low visibility. It won't be as unnoticeable as fluoro lines, but it's way better than braid. You can still have a decent trout catch with mono as long as its characteristics don't limit you.
Pros
Very inexpensive.

Stretchy and shock-absorbent.

Makes excellent knots.

Low visibility.

A few color options, strengths, and sizes available.
Cons
Lots of memory.

Very low sensitivity.
---
Berkley XL906-15 Trilene XL Mono Line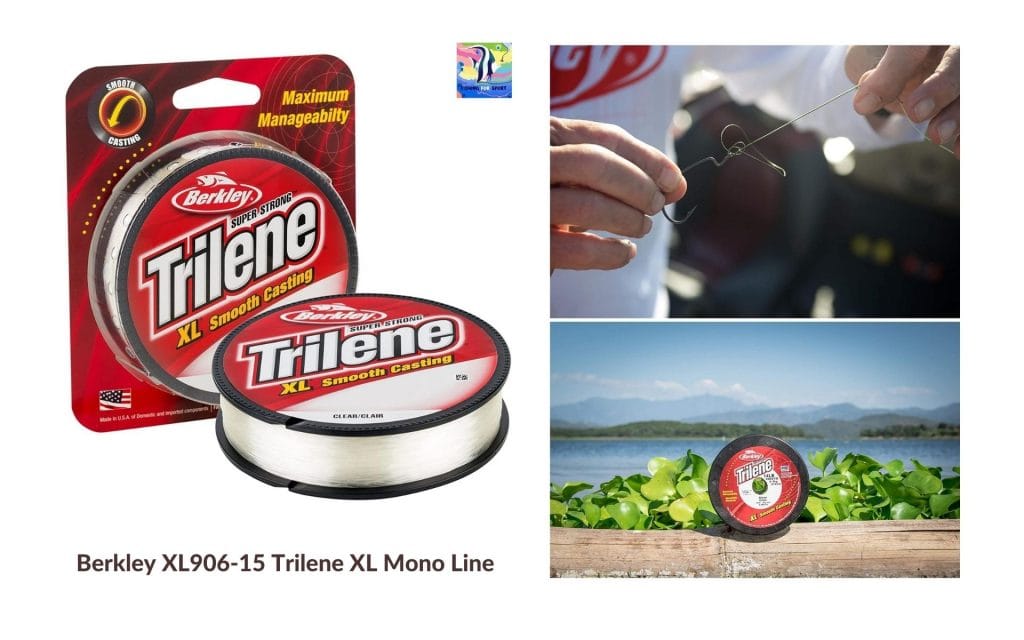 Berkley's Trilene XL is one of the best mono lines you can find out there. It's rather expensive, but it offers perhaps the best sensitivity and strength you can find in a monofilament line. The memory of this fishing line is very low as well, though it's still there.
Trilene XL is also available in a huge number of strengths and sizes, so it can satisfy pretty much any requirements – as long as a mono line is what you need. Thanks to its clarity, this line has very low visibility too (though there are colored versions available as well).
Pros
A huge variety of strengths and sizes.

3 colors.

Great sensitivity, strength, and very low memory for a mono line.

Low visibility.
---
Berkley Trilene Big Game Mono Line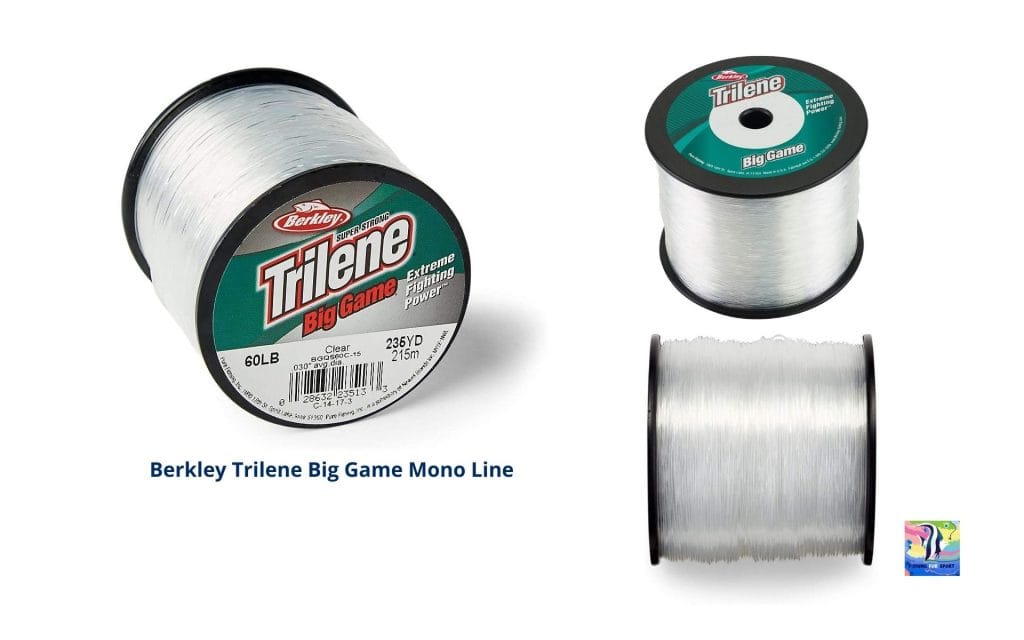 Finally, we have Berkley's Trilene Big Game mono line, which essentially is a little less extreme alternative to the Trilene XL we've just reviewed. Trilene Big Game is weaker and has way more memory than its XL brother, but it's also much cheaper.
Despite the relatively weak strength, Trilene Big Game still offers solid abrasion resistance and strength. But more importantly, it boasts the excellent stretchiness and shock absorption that many people love about monofilament lines.
Like Trilene XL, Big Game is available in a huge number of options too, so it's a great pick for any mono line user.
Pros
A great middle-ground mono line option.

A good number of strengths, sizes, and colors.

Low visibility.
This is the end of our best fishing line for trout list. Let's talk about fishing lines in general.
Trouts are very cunning species one little noise, and they are vanished. So you need a silent lightweight and smooth fishing rod to be able to master the game of trout fishing. We have the perfect rod for you, make sure you check our 8 Best Trout Rod Reviews.
Everyone knows Spinning Reels are ideal for Trout fishing. We have a super explanatory review on 10 Best Inshore Spinning Reels.
---
Mono VS Braided VS Fluorocarbon Line – Which Is Best?
If you are a beginning angler, then you probably don't quite understand the differences between monofilament, braided, and fluorocarbon fishing line.
In this section of our best fishing line for trout review, let's take a look at the key distinctions, benefits, and disadvantages of these line types.
Monofilament fishing lines
Monofilament fishing lines are the most popular out there, mainly thanks to their cheap cost.
Mono lines are typically made of nylon – nylon polymers are molten and then fused together via extrusion. This results in a line of the desired thickness and tensile strength.
Interestingly, monofilament lines are available in a wide range of pound-test ratings, starting from 8 and going up to 130. So given that a mono line is right for your situation, you have a lot of options.
Pros of mono fishing lines
Now, is a monofilament fishing line the right choice for you? If its pros sound good to you, then it most likely is:
Cost. Mono lines are less costly than other line types, which makes them a better buy for the money – assuming that it's the right sort of line for you.
Buoyancy. Mono sinks slowly, allowing for a better presentation of the lure/bait. Some denser mono lines may not sink at all, floating at the surface of the water.
Color options. Monofilament lines may be manufactured translucent or colored. They are therefore easier to adapt to your angling environment and can make the lure or bait look less suspicious for the fish. Translucent mono lines can work especially well in clear waters.
Elasticity. Mono lines are the most stretchy out there – they can extend up to 25% over their length. The elasticity of mono lines makes them excellent for trolling, fighting fish, or other situations where sudden shocks could damage the line, your fishing rod, or catch you off-guard.
Knot strength. Mono lines lose little to no of their strength when tied (given that you tie the line properly). This is partially thanks to their elasticity – it allows the knots to be tightened more when exposed to load.
Cons of mono fishing lines
Mono fishing lines are not free of cons as well:
Worse feel and sensitivity. Because mono line stretches, it gives you a worse feel of the fine movements of the lure and the fish.
UV sensitivity. Monofilament lines degrade and over-stretch quickly from UV exposure, so you should either limit angling in sunny weather or make sure to replace your mono lines often.
High absorbance. Mono absorbs water easily, which could lower its strength over time.
Braided fishing lines
Braided lines are made by weaving together synthetic fibers. This makes braid lines the thinnest out there, which implies some benefits that we'll explain below.
Pros of braided fishing lines
Here are the strongest sides of braided fishing lines:
Ability to sink. Braid lines are denser than mono and sink much quicker. This is useful for bottom fishing.
Snag resistance. Braid has a slight lubricity, which allows it to be used for angling around water structures, bottom fishing, or jigging. It's stronger than mono line as well, so it won't break down as quickly.
Low stretch. Braid lines have very low stretch. Although this makes these lines not as shock absorbent as mono lines, it allows for two huge benefits – longer casting distance and added sensitivity.
Longer casting distance. Braid line is more predictable thanks to its low stretch and is easier to cast far. This is excellent for situations where you need to catch easily spooked fish from afar.
Added sensitivity. Since braid doesn't stretch, you feel every underwater motion that happens around the bait.
Zero water absorption. A braided fishing line will retain its strength no matter how many times it's exposed to water.
UV resistance. You may safely use a braided line under the sun – UV exposure won't degrade it. Of course, the line will still wear, but not from the sun.
Little to no memory. Braided line doesn't curl up on the line and straightens easily. Thanks to this, braid retains its casting performance after repeated use.
Cons of braided fishing lines
Cost. Expect to pay about 50% higher for braid than mono. With that said, in the long term, braid can be a more cost-efficient buy because it lasts longer.
High visibility. Though braid is the thinnest line type, it doesn't blend in with the surroundings well. Braid is thus best for dirty or muddy water – in clear water, mono or fluorocarbon lines would work way better.
Weak knots. This is because of the lubricity. Even with correct knots, braid gets undone more easily than mono.
Tendency to tangling. Braided lines – especially on lighter-strength ones – tend to tangle and are challenging to untangle.
Fading. Though braid doesn't degrade from UVs, it does fade, which could make it more visible to fish.
Braided lines are used in all types of reels but it suits best with Baitcasting Reels. We have 10 Best Baitcasting Reels Reviewed in case you are looking for some.
Fluorocarbon fishing lines
Finally, fluorocarbon fishing lines. These are single-strand lines manufactured from polyvinylidene difluoride (PVDF). Thanks to this, fluorocarbon lines are resistant to acids, oxidants, salt solutions, and hydrocarbons.
Fluorocarbon fishing lines were the least popular among anglers as of this post's writing, but their popularity seems to steadily increase.
Pros of fluorocarbon fishing lines
Ability to sink. Thanks to their higher density than mono and braid, fluorocarbon lines easily sink and are great if you need to keep your lures closer to the bottom of the water body.
High abrasion resistance. Fluorocarbon lines have the highest abrasion resistance among all three line types, which makes them excellent around rocks and debris.
Decent elasticity and strong knots. In termsof elasticity, fluorocarbon lines are between mono and braid. So you can still tie pretty strong knots with this line. It can also absorb shocks pretty well, but not as well as mono.
Good sensitivity. Fluorocarbon lines aren't as sensitive as braid due to their elasticity, but they offer decent line feel and allow you to sense finer movements than with mono.
Zero water absorption. Like braid, fluorocarbon lines are not porous and don't absorb water, retaining their qualities after multiple uses.
UV resistance. UV is not a problem for this line type as well, so sun exposure won't degrade it.
Low visibility. Fluorocarbon lines are nearly clear and have similar light refraction properties to water, which makes them nearly invisible to fish. You can thus use fluorocarbon lines in any water.
Cons of fluorocarbon fishing lines
Very high cost. Fluoro lines are often more expensive than braided lines.
High memory and stiffness. Because of its stiffness, the typical fluorocarbon line has more memory than mono and especially braid. Modern fluorocarbon lines are better than their predecessors, but this problem still stands.
Fast sinking rate. Fluorocarbon lines sink faster than mono and often faster than braid, so topwater fishing isn't optimal with them.
Which Line Style Would Be The Best For Trout?
Let's not forget that the goal of this post was to give you recommendations for the best fishing line for trout. And while we now understand the pros and cons of the three line styles, we still don't know which one would work the best for trout.
Well, here's what you should know about mono, braid, and fluoro lines for trout fishing:
Fluoro line. Trout has excellent vision and is one of the most observant fish species out there. With that, the lower the line visibility, the better. This essentially means that fluorocarbon lines would work the best thanks to their near invisibility in water.
Fluoro is very expensive, however. To save money, you could use a short line of fluoro as a leader tied on a main braid or mono line.
Mono line. Mono can also work very well with trout. As a line type that can work in most situations, it's great if your budget is limited as well.
Braid line. Braid is the least optimal fishing line for trout because of its high visibility. However, you can still use it as a main line with a fluorocarbon or mono leader.
So in short, you may use mono or fluorocarbon lines as your leader line, and you may use any of the three styles for your main line. Which line to go for depends on your needs and situation – refer to our pros & cons section on each line to determine the optimal line for the day.
Video: How to Put Line On a Spinning Reel
In this section of our best fishing line for trout review, let's take a visual overview of how we can properly put lines on our reel. This video might help you to spool your spinning reels properly and avoid any kind of line tangling.
Final Words
Looks like we've reached the end of our best fishing line for trout review, to conclude this, we hope that this review article was valuable and informative.
Angling for trout is art, and there is a plethora of factors to consider when choosing a rig for your next outing. We've given you a good idea of how you should start – however, there is still a lot for you to learn.
We recommend that you familiarize yourself with other fishing line specs as well. We've talked about the most important things, but you should also determine the right length and strength for your line. This is fairly easy to do but will still take some effort.
Also, you can let us know your thoughts about which is the best fishing line for trout? Comment below!
Don't stop here – look for more in-depth guides on specifically trout fishing. Choosing a line is just part of the game – you'll also need to think about your hooks, lure/bait, and how to angle for trout.