Fishing tools are quite heavy and carrying them from one place to another can be a tiresome job. The best fishing tackle bag will save you from such hassle and let you maneuver easily. With the right tackle bag, your fishing expedition will be a lot more fun and hassle-free.
The tackle bags are quite spacious and they hold a large number of tools. You can carry all your essentials and even some spares during the trip. We have gathered the best fishing tackle bags out there to make your next fishing trip an absolute blast!
Let's take a quick look at our top picks ,their features and then dive into the full review.
Spiderwire Wolf Tackle Bag

Piscifun Storage Tackle Bag

KastKing Tackle Bag

Waterproof and skid-resistant

Lifetime warranty

Spacious design
Lightweight

Waterproof

Long strap
Large main compartment

Easily portable

Well Protected
Check Price
Check Price
Check Price
---
Piscifun Fishing Tackle Storage Bag
Piscifun is one of the most renowned names in the fishing industry with a wide range of products. Being a crossbody bag, you'll have your hands free and have a great casting experience. It has a dimension of 11.8×8.3×3.9-inches with a weight of only 1.65 pounds. It comes with 8 color options as well.
This fishing tackle bag is made with 1000D high-density nylon fabric and high-quality equipment. You can carry all your fishing essentials such as lures, pliers, lines, wallet, etc. You can also carry your phone and camera in the bag as it's completely waterproof.
The bag has a rugged build-quality that ensures that it can endure heavy beatings. There are several storage compartments that help you to properly allocate all your essentials.
PROS
Lightweight and compact design
Waterproof and high-quality breathable material
Multiple storage compartments
8 color variations
Long strap
CONS
Doesn't include any tray or boxes
---
KastKing Fishing Tackle Bags
The KastKing Fishing Tackle Bags not only have a great outlook but offers outstanding durability too. It's made with 420D rip-stop nylon material that delivers superior performance and reliability. It features a hydrophobic coating that sheds moisture from the outside. There's also a PVC layer on the inside to provide extra protection.
The bag has plenty of storage inside with enough room for all your fishing tools. The main compartment can hold a 3600-size tackle box tray. Also, there are 7 external zippered compartments and pockets to store all your other essentials such as phone, wallet, tools, etc.
This tackle is designed to provide higher efficiency during fishing. The neo-grip shoulder strap will help you to hold on to the bag. There's extra padding on the straps to ensure that you don't feel extra load due to the weight of the bag.
Judging by it's build quality and look this bag has easily took place among our top 10 best fishing tackle bags.
PROS
Protects the bag from weather elements
Comfortable
Easily portable
Includes padded straps
Large main compartment and 7 small compartments
CONS
Storage boxes need to be bought separately
---
RUNCL Fishing Tackle Storage Bag
The RUNCL Fishing Tackle Storage Bag is hands down one of the best fishing tackle bags out there. It comes in three different designs: two sling bag shape and one tackle bag shape. All the models offer plenty of storage facilities.
There are small compartments on the strap of the bag that provides you quick and easy access to your essentials. There's enough room for you to carry your baits, tools, devices, etc. It's made with 600D grade polyester that has a rugged build-quality and exceptional durability.
The bag has a molded HDPE waterproof base that provides extra gripping power on a wet surface. Also, the ergonomic design provides organized placement of the most frequently used items and lets you have quick access to them.
PROS
Three different sizes and design
Waterproof
Comfortable strap
Ergonomic design with easy access to the compartments
High-quality polyester material
---
Spiderwire Wolf Tackle Bag
If you're looking for a sturdy looking tackle bag with extraordinary storage facility then the Spiderwire Wolf Tackle Bag is the one for you. The bag is made with all-weather molded bottom and PVC to ensure you have a successful day out fishing.
The bag has a dimension of 15.75 x 10.8 x 8.2 inches. It's made with tough 1680 denier polyester that will last you for ages. On top of that, the product is backed by a lifetime warranty as well.
One of the best features of the bag is its adjustable dividers that help you to organize your tackle box. There are two front pockets and two slots for pliers that let you have quick access to the essentials.
PROS
Waterproof and skid-resistant base
Lifetime warranty
Spacious design
Designated slot for necessary tools
Adjustable divider
---
Piscifun Fishing Tackle Backpack
The Piscifun Fishing Tackle Backpack is one of the best fishing tackle bags that's made for serious anglers. You'll definitely like the aesthetic design including three different color choices. It's a heavy-duty bag with enough space for all of your fishing and angling needs.
The bag is made with 1200D high-quality water-resistant nylon material. Also, the 86 sewing procedures deliver a lot more durability compared to other tackle backpacks out there. There's a removable clapboard with the bag that offers plenty of room for storing different stuff.
Even though the bag is waterproof, it features additional rain-guard to provide extra protection against water. There are small front pockets and hard molded sunglasses case to keep them safe from weather elements.
You'll also get a one-year warranty with this fish tackle bag. However, with little care, this bad will last you for ages without any kind of damage or tear.
PROS
Affordable
Spacious
Easy to carry
Water-resistant exterior
---
Okeechobee Fats Fisherman Deluxe Tackle Bag
The Okeechobee Fats Fisherman Deluxe Tackle Bag is built to last. It's made with heavy-duty polyester with double stitched seams that offer incredible durability. It has a dimension of 16.4 x 13.9 x 10.2 inches that lets you store all your fishing essentials inside the bag.
The bag comes in three color variations: brown, grey and green. The top-loading compartment contains 4 large boxes. There are two tool holders at the front of the tackle bag that holds the gloves, knives, and other important tools. There's also a sunglass compartment to give you easy and quick access to them.
As the bag is made with water-resistant material, you can stay carefree and concentrate solely on the fishes. It features neoprene wrap handles that help to maneuver the bag easily.
PROS
Sturdy and durable design
Contains multiples boxes
Easy access to essential tools
Hard case for sunglasses
Made with water-resistant materials
Handles well against impacts
---
Spiderwire Fishing Tackle Backpack
The Spiderwire Fishing Tackle Backpack is known as a reasonable budget-friendly bag. The reason why people consider this as one of the best fishing tackle bags is because of the rod holders. This really sets them apart from other backpacks out there.
It offers two side pockets for you to hold fishing poles. You can fit four poles in the side pockets easily, two on each side. There is an insulated middle compartment where you can store live bait like shrimp or squid. The central compartment can be divided into three different compartments. Also, you'll get a foam molded sunglasses case to protect your shades.
Though this bag isn't master in any particular category it's definitely a real jack of all trades.
PROS
Can hold up to four fishing rods
Includes 3 medium utility boxes
Adjustable main compartment
Insulated middle compartment
---
The X-Large Recon Rolling Fishing Backpack
The Recon Rolling Fishing Backpack is a high-quality fishing tackle backpack made in the USA. If you're looking for a waterproof bag that can carry all your fishing stuff then this is the best fishing tackle bag for you.
This bag is made from lightweight, breathable polyester. The bag and zip are corrosion resistant which helps you to stay out all day. The dimension of the bag is pretty large with 19 x 16 x 10 inches.
In the top compartment, it has a removable divider for the bigger tackle. The fast-access trapdoor can fit up to four 3650 containers easily. Also, it comes with a rain cover to protect the backpack and your gear from rain and sea spray.
Moreover, you won't have to dig around in the bag because of its quick access pockets and spacious practical size.
PROS
Spacious
Fast access trapdoor
Lightweight
Saltwater corrosion resistant
---
SHIMANO BLACKMOON Fishing Backpack
The Shimano Blackmoon fishing backpack has one of the greatest all-around tackle storage things that you'll ever run across. This bag is built to last and extremely well-designed that has storage for days
This backpack comes with four Shimano branded Plano 3650 clear boxes. They are individually split in the main compartment, so you don't have these things rubbing against each other. On the very front, you have a mesh-lined Velcro pocket. If it gets wet the water will run out of there.
The most impressive thing is the sides of the bag with two mesh loops for holding your rod. This will help you to use your hand somewhere else. Also, there is a rain cover included with the bag that acts as a waterproof in case of a storm ambushes on your fishing trip.
PROS
Durable
Comfortable
Water-resistant rain cover
Spacious
---
Bassdash Fishing Tackle Backpack
If you're looking for a premium quality fishing tackle backpack with an affordable price tag then the Bassdash Fishing Tackle Backpack is the perfect choice for you. The bag not only looks good on the outside but also offers plenty of space inside.
The bag has 600D polyester construction that offers incredible durability even in the toughest environment. It has a dimension of 15.7×7.9×19.70-inches that can accommodate all the necessary tools in the bag. The top compartments are specifically designed to store personal items.
On the other hand, the bottom compartments are designed to hold 3 large 3600-sizes. Each of these trays has 6 to 18 different compartments for holding your accessories in an organized way. The adjustable shoulder strap provides you enough comfort throughout your fishing expedition.
PROS
600D-grade polyester material
Breathable and rugged construction
Several storage compartments
Includes trays
Comes with a rain cover
---
A trustworthy fishing line is just as important as other fishing gears. If you have any doubt about how to choose a decent fishing line then you should take a look at our well researched 10 BEST FISHING LINE Review.
---
Buying guide For Best Fishing Tackle Bag
Along with the reviews we have also included a buying guide to help you choose the best fishing tackle bag for you. Not all fishing backpacks will be ideal for your fishing trip. Here are the top factors to consider when buying a fishing backpack.
Size and Storage
It's very important to select the appropriate size for your fishing needs. At first, you have to consider what type of fish you're going to catch and what tools require to catch that fish. If you're a beginner then it may be wise to start with a bigger bag to give yourself some wiggle room.
So, the backpack should have more than enough room to house all your gear and tools. Always make sure that your backpack comes with lots of options for a variety of compartments, side pockets, and pouches. If you need things fast then it's better to go for a well-designed backpack with side pockets to reach your tools quickly.
However, added size means there is an added weight. After sometimes walking with the bag you might feel pain in your neck and back.
Design
You don't want a bag that will break down after the manufacturer's warranty expires. It's also important to have a strong quality bag that is built to last and won't tear down halfway through a trip.
Most likely you'll have sharp and pointy items in your bag pack. Therefore, your bag should have a strong lining infernally as well to prevent things from damaging the bag. Also, there are bags with a thoughtful purpose behind the construction like easily reachable pockets, individual compartments, etc.
Moreover, it's good for your bag to have double or even triple stitched to give you the best protection.
Shoulder Straps
Not only shoulder straps are necessary but it should also be well constructed with an emphasis on ergonomics and the proper weight-bearing ratio. It's essential to place the strap wider on your shoulder as this will help you to get better weight distribution.
Try to avoid narrow straps on a backpack. This will cause lower back pain after some time as most of the weight is carried in that area. Lastly, look for the straps and backing that have a good meshed material as this will help you to be more comfortable and sweat as much.
Waterproof / Weather Resistant
There are so many different backpacks with different materials from nylon to polyester. You won't have to worry about your belongings getting soaked in with the best waterproof fishing backpack. So, another important feature for any angler is a water-resistant backpack.
It's essential to look for a backpack with strongly built materials that can offer internal and external waterproofing. The waterproof backpack also helps you to get rid of mud and other dirty things. This feature doesn't hold in the musky smell that you'll definitely appreciate after the first trip is made.
Apart from these benefits, waterproof bags will also protect the investment you have made in all the tools and gears.
Comfort and convenience
No one wants to struggle to carry their bag around when they have the option of getting a more comfortable one.
Try to choose one that has adequate padding at the shoulder straps as you'll be carrying the backpack for long

The fabric used at the back panel and the straps should be breathable to prevent moisture buildup

Easy to unzip bags with strong, weather-resistant zippers

Proper weight distribution is a must as you don't want to get back and neck issues

Look for backpacks that offer many options like LED lights, folding trays, and lay flat design as these options will help you to fish through different seasons and times of the day
Cooling Compartment
This isn't the most important thing to look for when you're looking forward to purchasing a fishing tackle bag. However, the cooling compartment feature will keep your bait from rotting. Also, this will help you to keep your snacks and food cool and avoid spoilage during the long days out on the water.
So, get a bag with a large, sealed compartment or removable lightweight cooler with enough space.
---
Benefits of a Fishing Tackle Bag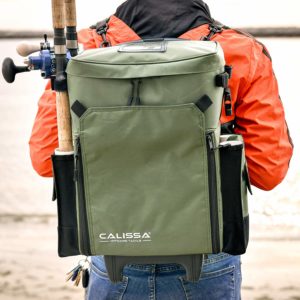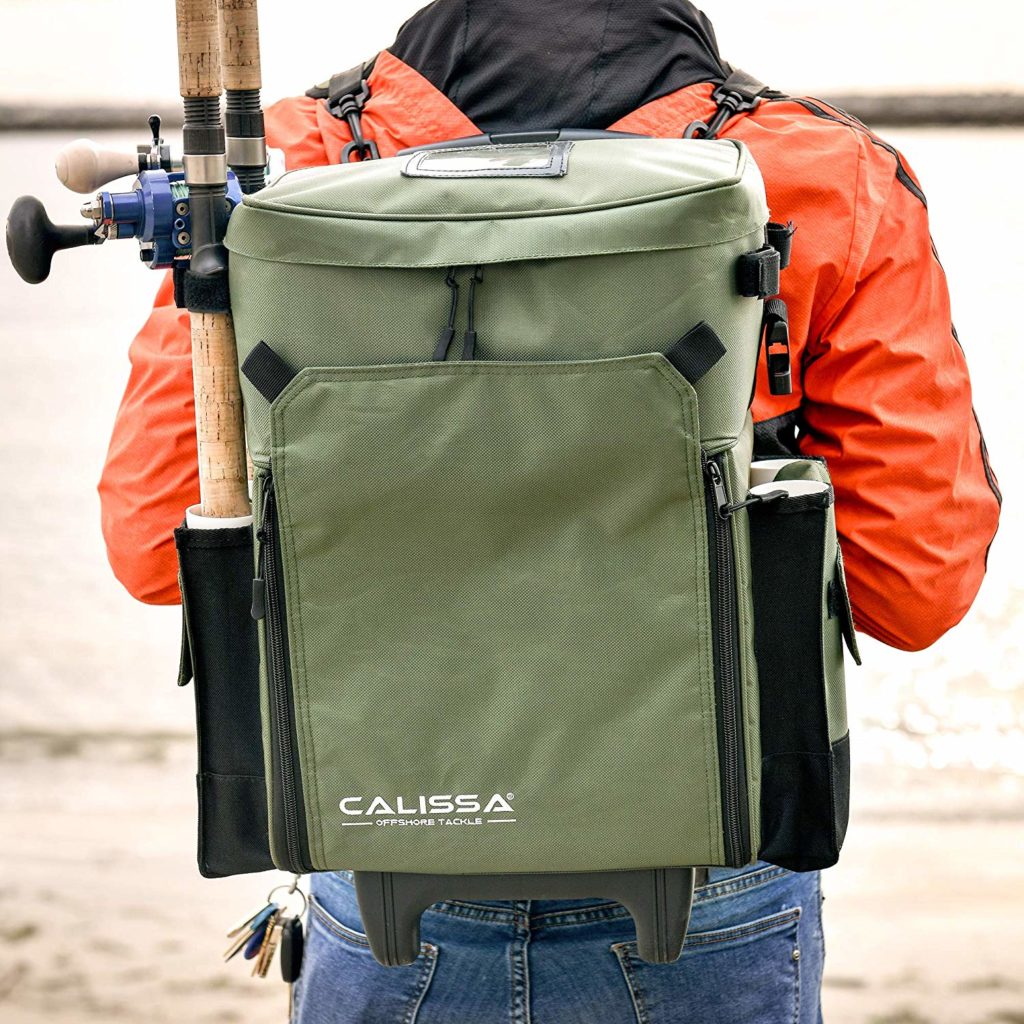 Be a novice angler or a serious one, a fishing tackle bag is necessary for all. It comes with numerous benefits that will make your fishing expedition hassle-free and convenient.
Keeping Your Hands Free
A tackle back will hold all the necessary items for fishing and keep them handy. Therefore, you'll have both your hands-free and have full concentration over the fishes. It lets you have easier access to the essentials.
Durability
Tackle bags offer a lot more durability than the ordinary bags out there. Some anglers have used their tackle bags for over a decade. With proper care, the tackle bag will serve you for years without any wear or tear.
Waterproof
Most of the fishing tackle bags that we reviewed here are waterproof. They will ensure the best security against water damages and keep your valuable item safe. The bags usually have both inside and outside water-resistant layers to give in extra protection against water.
Plenty of Storage Facility
The fishing tackle bags provide plenty of storage facilities to keep the essential tools for fishing. These bags are quite bigger than the regular backpacks and offer more convenient storage space. The tackle bags usually have multiple different chambers with several smallholders for gloves, small tools, etc.
Many of the bags contain additional waterproof gadget holder to keep your electronic devices safe from water. Also, the bags are ergonomically designed so that you can have quick access to all your belongings.
Better Maneuverability
Despite the large space capacity, the fishing tackle bags are lightweight. These bags can be easily transported from one place to another without any hassle. Even though the fabric is quite lightweight, the tackle bag fabrics are designed to provide ultimate durability against weather elements.
---
Best Fishing Tackle Bag – Video
This video is all about Tackle Bag Organization, made by YouTuber Flukemaster. It will help you get the best use of your Tackle Bag storage capacity.
---
Best Fishing Tackle bag : FAQs
Q. What to put in a fishing backpack?
Ans. The common things anglers put in their fishing backpack are tackle box, reels, rods, documents bait, food or snacks, and other fishing accessories. However, you can put anything that you feel will need on your fishing trip.
Q. Which fishing tackle bags are best for water resistance?
Ans. The best fishing tackle bags are those that feature high-density nylon fabrics material. This material is the most capable of preventing water damage and designed to protect the integrity within the bag.
Q. Are LED backpacks a better option?
Ans. Yes, an in-built LED light system is a blessing in disguise. You won't find its importance until you are stuck in a situation. This will definitely help you in a dark location where you can't find a thing.
Q. What types of rods should you pack?
Ans. It totally depends up to you, but if your tackle bag has lesser space then a telescopic rod would be your best buddy.
---
Final Thoughts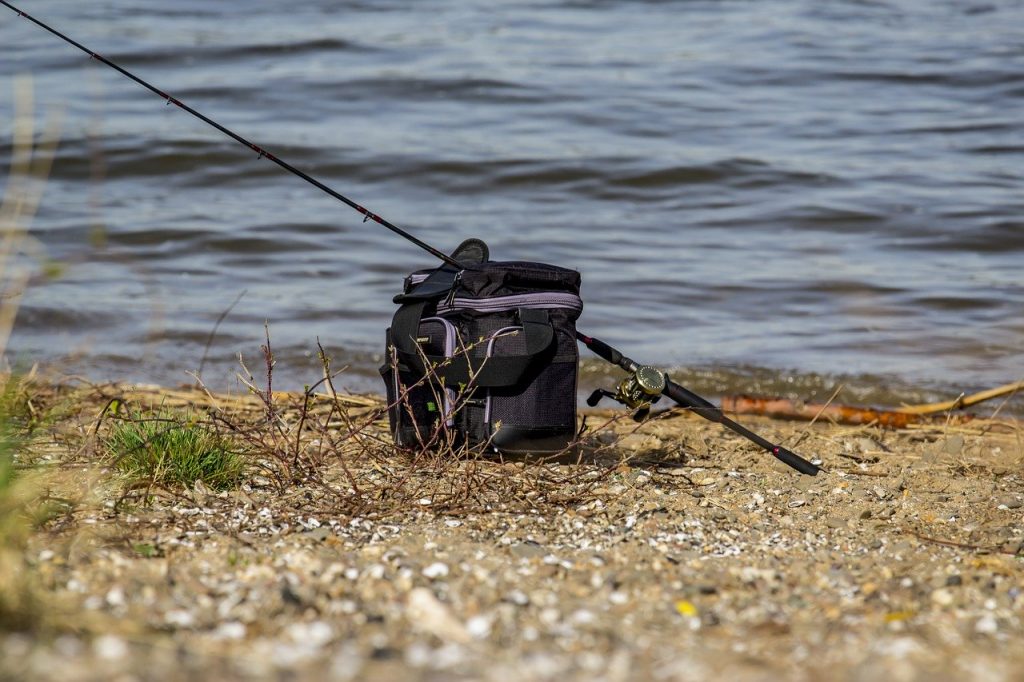 With so many choices out there, you're probably struggling to find the right one. Fishing tackle bags come in a variety of sizes and materials. However, the best fishing tackle bag will hold all the necessary items for fishing. Also, it needs to be comfortable enough so that you can easily carry it around.
We have reviewed the best fishing tackle bags out there so that you can make the best of your investment. We have included the bags with a variety of sizes and price ranges. This will help you to choose the best one according to your preference.
So, get the best fishing tackle bag that suits both your choice and necessity to make your next fishing expedition a lifetime experience.