Abu Garcia Pro Max promises great performance at a pretty good price – but does it hold up to the claims? We'll help you find out on our Abu Garcia Pro Max review!
Keep reading – below, we'll have a good look at the features, advantages, and disadvantages of Pro Max to give you a clearer picture.
Quick Overview
Abu Garcia Pro Max Low Profile Baitcasting Fishing Reel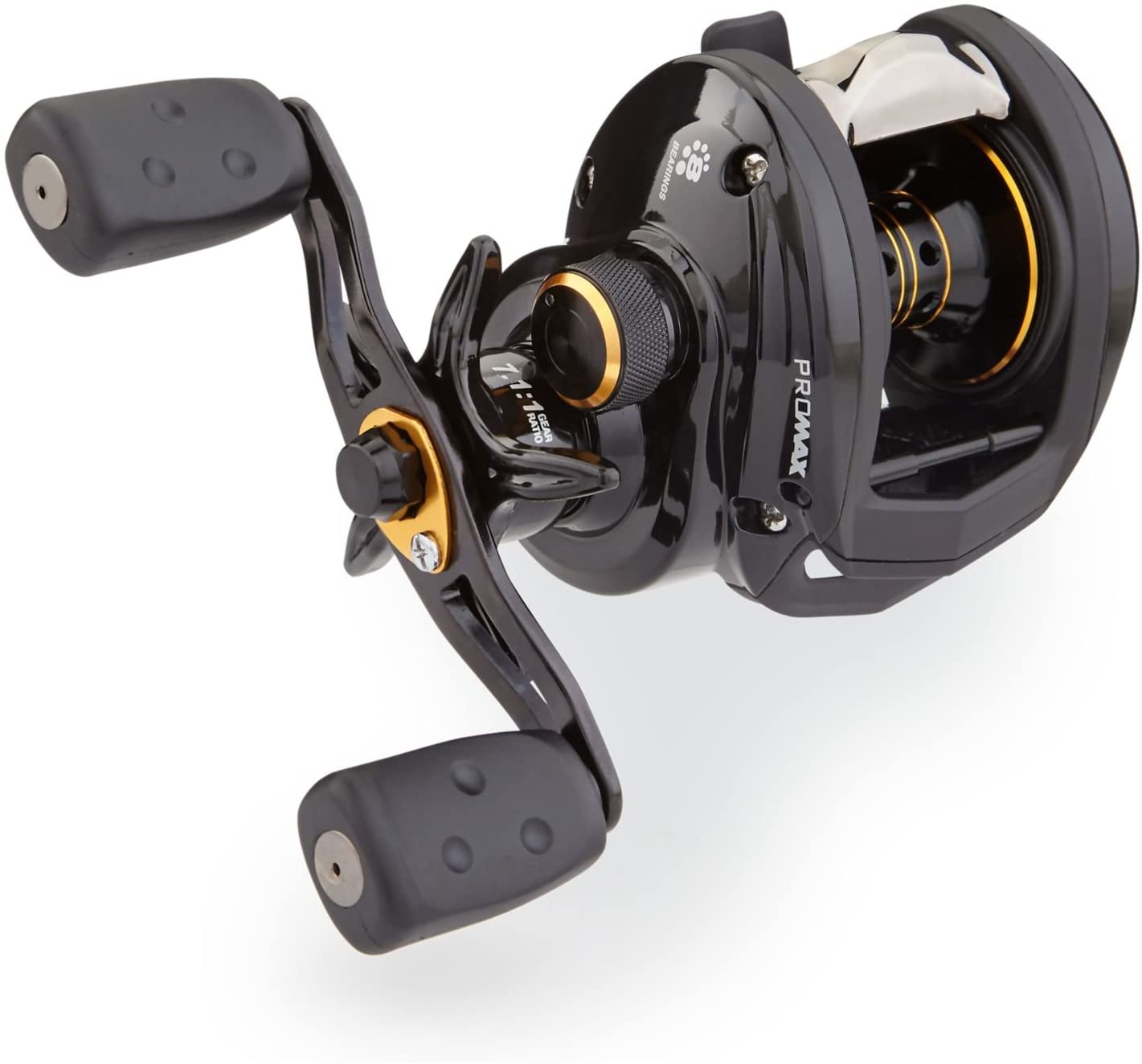 Great value for the money.
Quality construction.
High gear ratio with smooth & quiet operation.
Convenient knobs.
Check Price
Abu Garcia Pro Max Review : Features & Benefits
Let's start with an overview of the key features & benefits of Abu Garcia Pro Max.
Please note that there are actually three models of Abu Garcia Pro Max – PMAX3, PMAX3-L, and PMAX3-C. They are pretty much identical – PMAX3-L is just a left-handed variant. As for PMAX3-C, it comes in a nice box, while PMAX3 comes in a plastic bag.
That's just about it – otherwise, the three models are identical.
With that, let's get started with our feature overview!
Attractive pricing
Within the Abu Garcia baitcasting reel line, Pro Max is actually on the lower end. But when you set it against baitcasting reel lines from other brands (like KastKing), it's towards the low middle end.
Given its pricing, Pro Max would probably work the best for more or less experienced anglers that do not need anything exceptional. If you aren't fishing or casting everyday, then Pro Max should work very well.
As for beginners, Pro Max may be a good pick for them too. It's not too expensive, and it has a nice-quality construction that will stay sufficient for aspiring anglers for a good amount of time.
From the limited budget standpoint though, Pro Max is not the best. You can find way cheaper reels on the market, like KastKing Royale Legend GT or Whitemax. Reels like these won't perform as well as Pro Max, but they make more sense if your budget is limited.
Quality low-profile construction
Pro Max offers a rather nice build quality. Plastic in this reel is minimal – instead, you are getting a solid graphite frame, an anodized aluminum spool, and stainless steel bearings.
We'd expect a little more for the money, but let's leave this to our downside section.
With its low-profile design, Pro Max doesn't occupy much space in storage or on the rod too. Weighing 7.3 ounces, it's rather light and easy to operate as well.
Solid line capacity
The line capacity of Abu Garcia Pro Max is as follows:
145 yards/12 pounds mono.

140 yards/30 pounds braid.
These are rather typical numbers for baitcasting reels of this weight and build. But for some reason, Abu Garcia doesn't list test strengths for lines of shorter/longer lengths.
You can certainly use heavier braid or mono on Abu Garcia Pro Max – if you go for a shorter line. But Abu Garcia doesn't provide any specs, so it's difficult to tell where the limit is when it comes to fishing lines.
High gear ratio
The gear ratio of the Abu Garcia Pro Max baitcasting reel is 7.1:1, while the retrieve rate is 29 inches. This is somewhere in the middle end of what you can find on baitcasting reels.
For the price and the experience level that this reel is intended for, 7.1:1 is nice. It allows you to quickly retrieve drop shot rigs when fishing in deep water, for example.
If you are skilled enough, then you will also be able to use this reel in low-speed applications like crankbaiting. But, of course, if you want power more than speed, then a low-ratio reel would work better.
Since many beginners may be interested in Pro Max, we should also touch upon the gear ratio's suitability for newbies.
Generally, gear ratios from 5.4:1 to 6.2:1 work best because they allow you to fish with most slow- and fast-moving baits.
Higher gear ratios require more skill for effective utilization, and they are also more difficult to use with low-speed baits. So though you could start baitcasting with Pro Max, it may be challenging to master due to the higher gear ratio.
Smooth operation
To ensure smooth and quiet operation, Abu Garcia Pro Max employs 7+1 stainless steel bearings paired with a brass gear. On top of that, Pro Max is equipped with the MagTrax magnetic brake system.
The brake system has multiple settings to allow you to control the line's behavior and cast distance. If you are a newbie, set the brakes to a higher setting to get a better feel of the reel and lower the backlash.
Given that you are skilled enough, Abu Garcia Pro Max doesn't tend to backlash. It's smooth and easy to work with, and long casting along with retrieval is smooth and easy.
High drag
Pro Max has plenty of drag too – up to 18 pounds. You can adjust this via the star knob behind the handle.
18 pounds is a lot for the capabilities of this fishing reel. Aside from that, the Power Disk drag system seems to be pretty reliable and retains its ability after repeated uses (unlike drag systems in cheaper reels).
Convenient handle knobs
Finally, we like the handle knobs of Pro Max. They are made of high-density EVA and have an easy-to-grab shape with light texturing to aid gripping. There are two knobs in Pro Max – typical for baitcasting reels – so you should be able to quickly grab them from any position too.
Downsides Of Abu Garcia Pro Max
Abu Garcia Pro Max is overall a great reel, but it has two downsides.
Graphite frame
At this price point, you can find a good number of reels that have aluminum frames. Aluminum is tougher and takes abuse better than graphite. We can't say that the graphite frame won't serve you long, but it may limit the potential of this reel.
Packaging
PMAX3 and PMAX3-L come in a plastic bag. In shipping terms, this is fine, but some people may want to have a better presentation at this price point. You can get the PMAX3-C coming in a nicer box, but it costs extra.
Abu Garcia Pro Max Pros & Cons
In this part of Abu Garcia Pro Max Review, Let's look at some of the pros and cons of this reel. This will help you judge the reel's overall performance and stability.
PROS:
Great value for the money.
Quality construction.
High gear ratio with smooth & quiet operation.
Convenient knobs.
CONS:
We'd like an aluminum frame at this price.
PMAX3 and PMAX3-L come in a plastic bag.
---
Abu Garcia Pro Max Review : Unboxing Video
In this part of Abu Garcia Pro Max Review, let's look at the full unboxing video of this reel so that you can get a proper visual overview of how this reel looks like in hand.
---
Abu Garcia Pro Max Alternates
Need an inexpensive baitcasting reel that also has decent quality? We have reviewed just the reel you want, take a look at our KastKing Royale Legend GT Review.
If you still cannot decide your reel, we have 10 Best Baitcasting Reel Review in case you want to check out more awesome reels.
Spinning reels are also very popular among anglers you can check out 10 Best Saltwater Spinning Reels Review.
---
Our Verdict On Abu Garcia Pro Max
Abu Garcia Pro Max will work especially well for intermediate anglers that don't need anything exceptional. It may also be great for beginners, but you can find cheaper reels out there, and its gear ratio is higher than we'd like in beginner terms.
All in all, Pro Max is solid and should easily withstand light to moderate use.