On our KastKing Royale Legend GT Review, we are going to help you understand whether Royale Legend GT is a good buy for the money.
As a cheap baitcasting reel, it would seem to be great for beginners. And it is indeed a nice buy for newbie anglers – however, before investing money, you should read our review to get a better idea of this reel's capabilities.
Let's take a quick look at the reel before jumping into the main course.
QUICK OVERVIEW
KastKing Royale Legend GT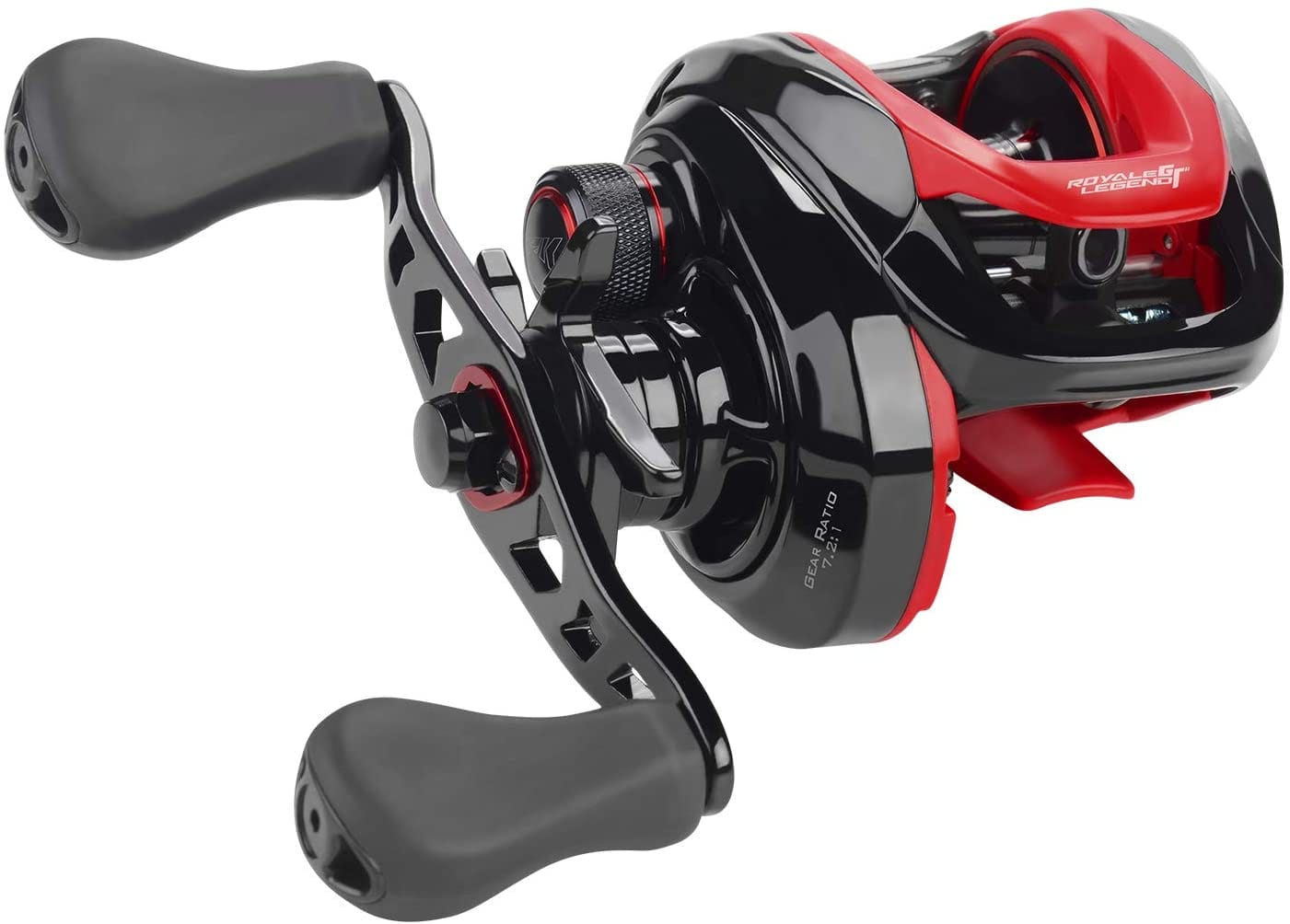 High drag & smooth operation.
Decent line capacity.
Low-profile design
Low price.
Check Price
KastKing Royale Legend GT Review: Features & Benefits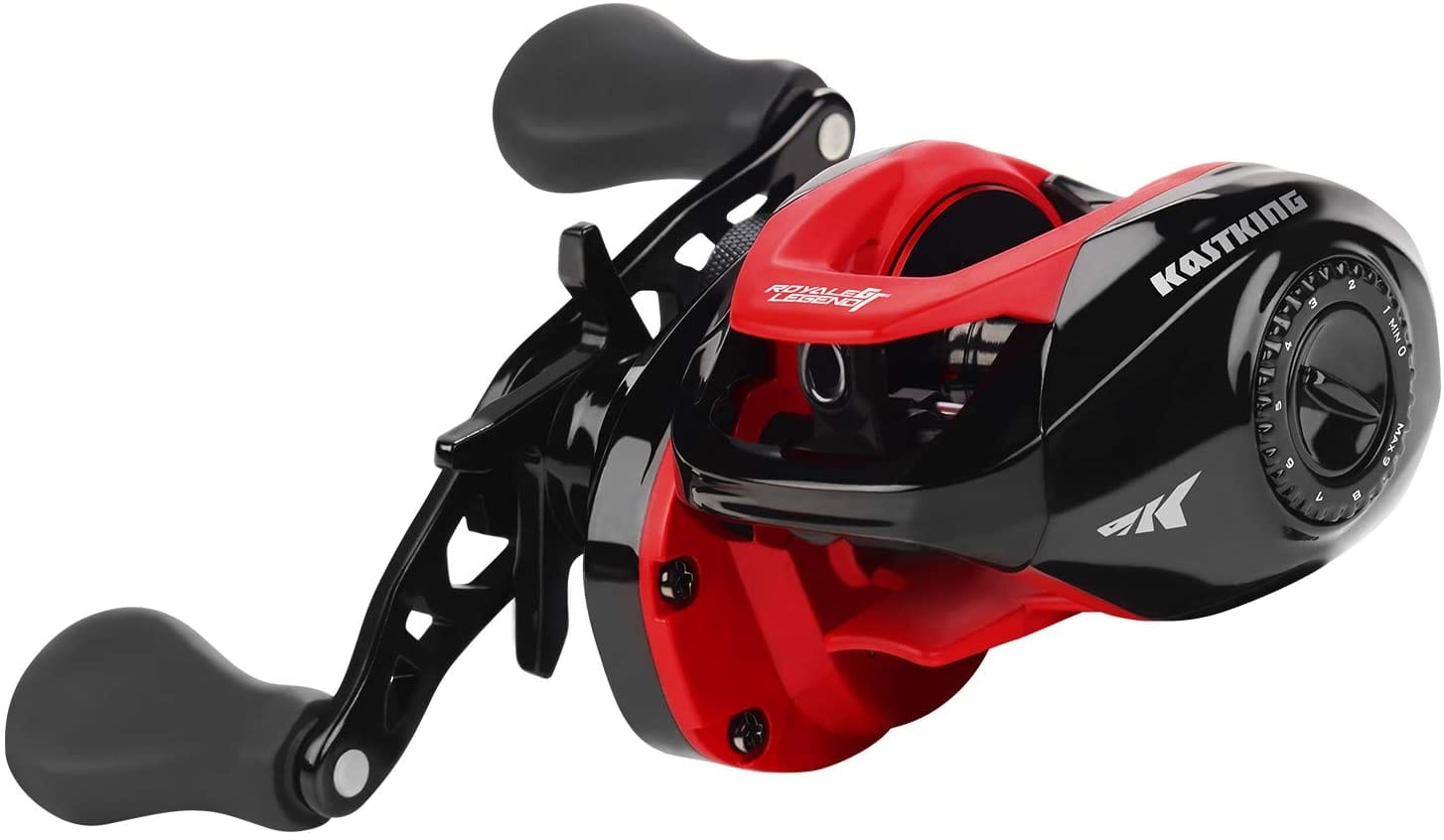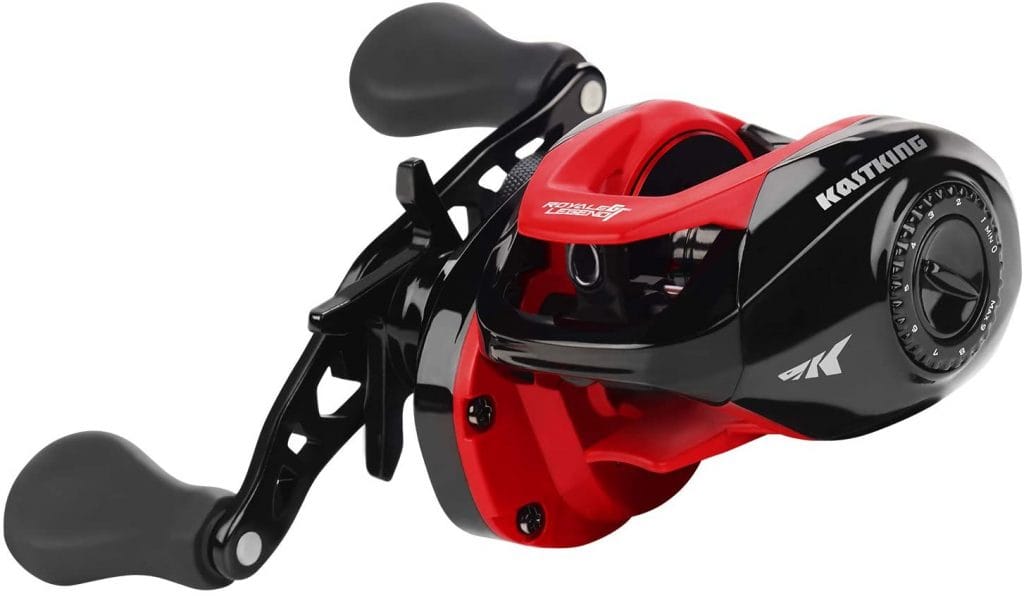 First up, let's have a look at the key features and benefits of the KastKing Royale Legend GT baitcasting reel.
One thing to note – in the provided product link, KastKing lists two baitcasting reels – Royale Legend GT and Whitemax. This review is focused on Royale Legend GT. Whitemax is very similar but has different bearings and gear ratio.
Low-profile design
In terms of weight, Royale Legend GT is 7.2 ounces – not too heavy and not too light. Compared to other KastKing reels, 7.2 ounces is pretty light – you can find baitcasting reels as heavy as 10 ounces from this brand!
Decent line capacity
The line capacity of the Royale Legend GT is not too bad. Here are the max specs for mono lines (in lbs/yds):
As for braid, you can work with:
These are somewhere around the lower end of what you can find with KastKing baitcasting reels.
If these seem sort of short for you, then you could go for the Whitemax reel – assuming its lower gear ratio is fine for you. It's priced the same but can take much longer lines at the same strength.
Very decent drag
17.6 pounds is about as much as you'd get from higher-end KastKing reels that have the same line strength capacity – say, KastKing Bassinator Elite. But it's not even close to being high – in reels like Kapstan, the drag power reaches 35 pounds.
17.6 pounds is more than enough for Royale Legend GT. And since you can adjust it down, you can make it work with fish of various sizes.
Now, where we doubt Royale Legend GT will hold up is reliability. We'll talk about this more in-depth a little later. But know that though the drag here is pretty nice, this reel is not equipped to work close to its limits very often.
Moderately fast gear ratio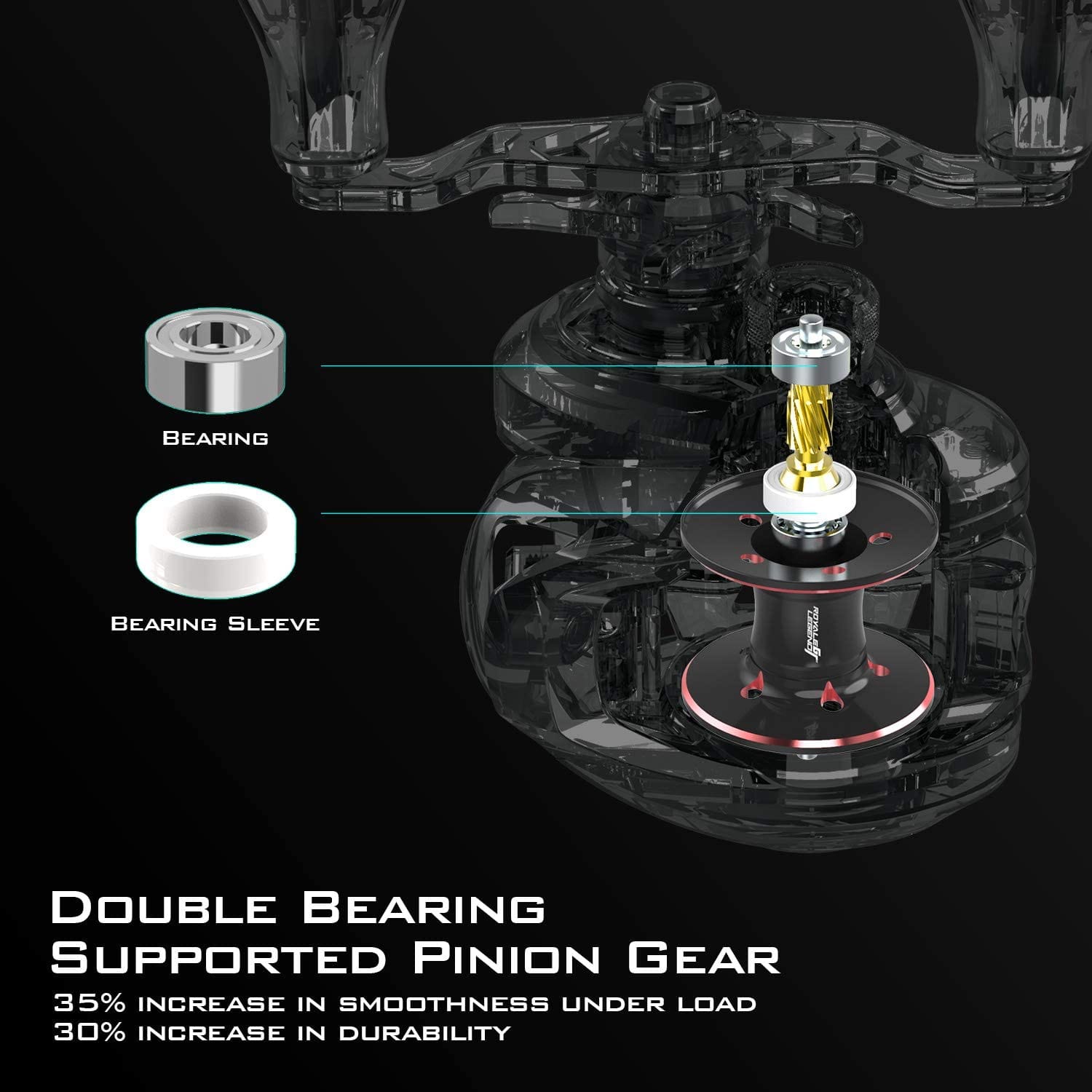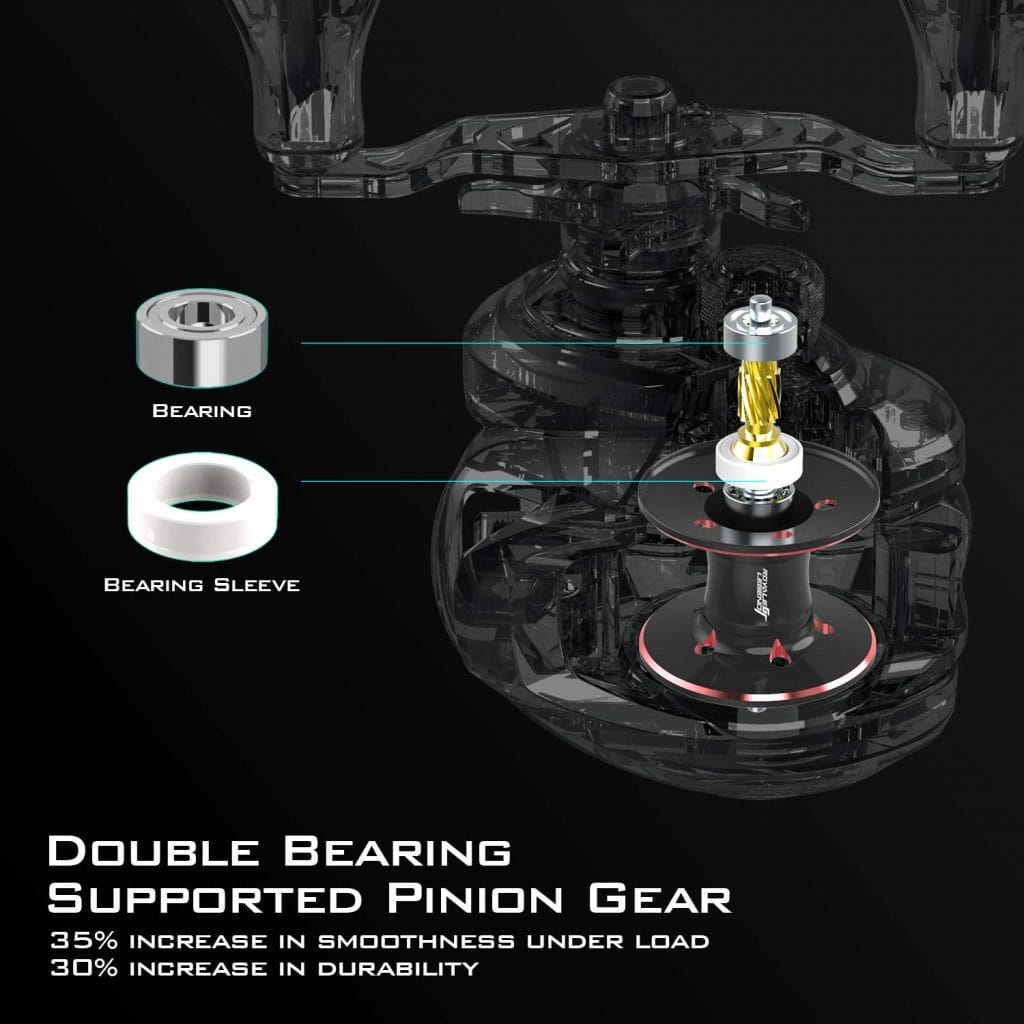 The gear ratio of Royale Legend GT is 7.2:1, which is on the faster side. We feel that 7.2:1 is a little high for a reel of this level.
Partially, this is because it can be tricky to do slow retrieves on reels with a higher gear ratio. More experienced anglers won't have much trouble with this, but newbies (who this reel would be the best for) may struggle.
In this sense, the Whitemax reel would probably work better with its low 5.3:1 gear ratio. However, if you specifically need a high-ratio reel, then Royale Legend GT will be fine.
Low price
The very first thing to catch the eye in the Royale Legend GT reel is its low price. It makes this baitcasting reel a great choice for beginning anglers and those whose needs aren't that high.
Additionally, the low price sets expectations – needless to say, you wouldn't expect top-of-the-line performance from a budget reel.
Fairly smooth casting and retrieval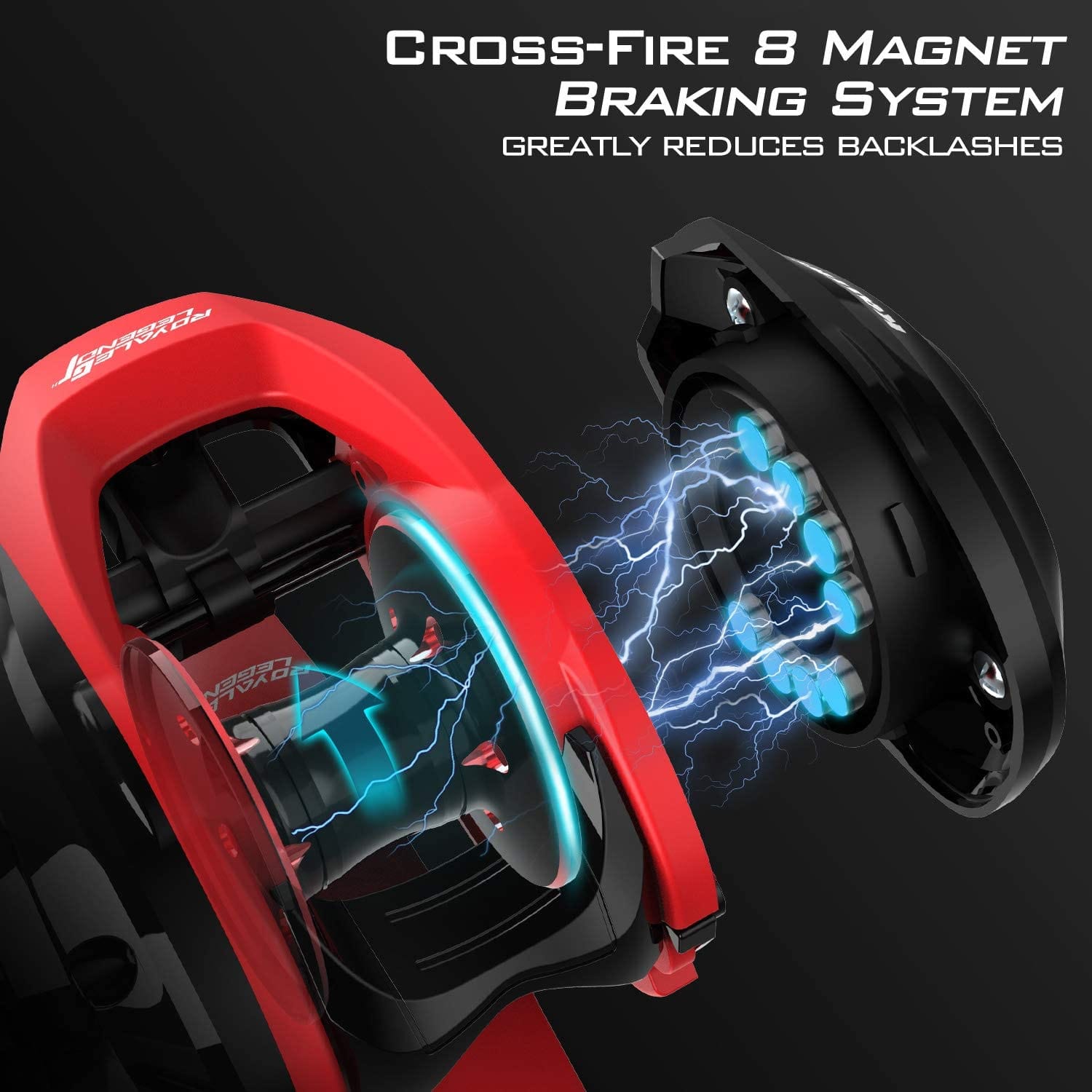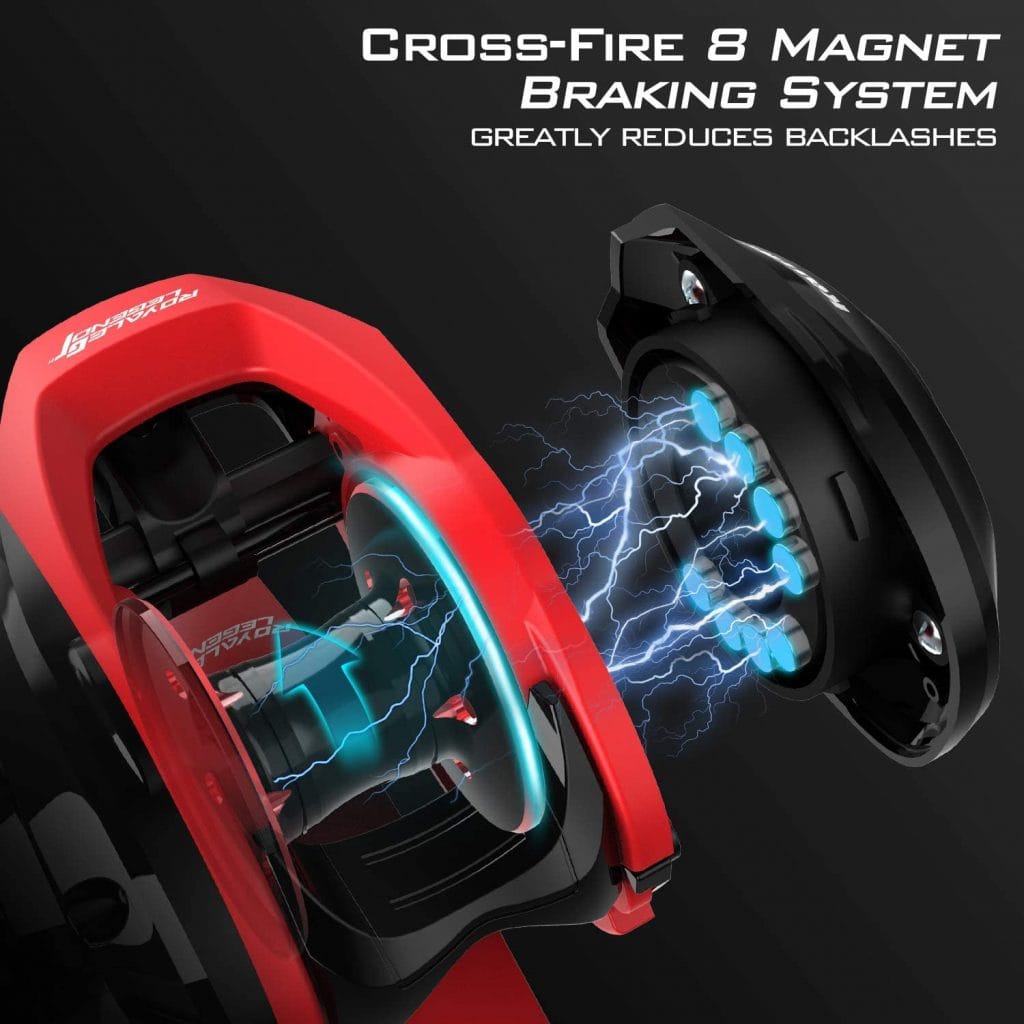 Royale Legend GT has 5+1 double-shielded stainless steel bearings that deliver a fairly smooth fishing experience. To slow down the rotation of the spool during the cast, the KastKing reel also has a magnetic brake system with 9 levels.
Combined, the bearings and the magnetic system allow for a rather smooth casting and retrieval at this price point.
The double-knob handle is a nice touch too – with its oversized knobs encased in EVA, it is easy to operate.
Downsides Of KastKing Royale Legend GT
There are some downsides to Royale Legend GT as well. More precisely, we have 3 downsides that we want to talk about.
Low-duty build
So first up, the build of Royale Legend GT is certainly not intended for heavy-duty use. Mainly, this is because Royale Legend GT has a lot of plastic elements, including the knobs and the release lever. There also are many other small plastic details in this reel, and they are potential weak points.
Noise
Although Royale Legend GT is fairly smooth, it's noisy. This isn't that big of a deal in terms of performance, but it may be annoying to some people.
Might need fixes out of the box
A noticeable number of people have received Royale Legend GT with loose screws and other fixable issues out of the box. This isn't a big deal, but beginners might get confused since they may not be able to quickly figure out what's wrong.
KastKing Royale Legend GT Pros & Cons
To recap, here are the good and bad sides of Royale Legend GT:
PROS
Low price.

Low-profile design (that is rather cool-looking).

Decent line capacity.

Fast gear ratio (though this may be a downside for some).

High drag & smooth operation.
CONS
Low-duty construction.

Noisy operation.

Might need fixes out of the box.
KastKing Royale Legend GT : Video Review
In this section of our KastKing Royale Legend GT review, we would like to show you how this reel feels in action. YouTuber Reelin' With Nick made an awesome video of this reel.
KastKing Royale Legend GT Alternates
A good alternate of this baitcasting reel should be another baitcasting reel right?
If you prefer durability and built-quality over the price you must take a look at our Abu Garcia Pro Max Review.
Well, this reel may be the best cheap baitcasting reel but it will not be enough for catching monster fishes. That's why you need to get yourself a decent high-end reel.
Check our 10 Best Baitcasting Reel Review and pick the one that suits you most.
Our Verdict On KastKing Royale Legend GT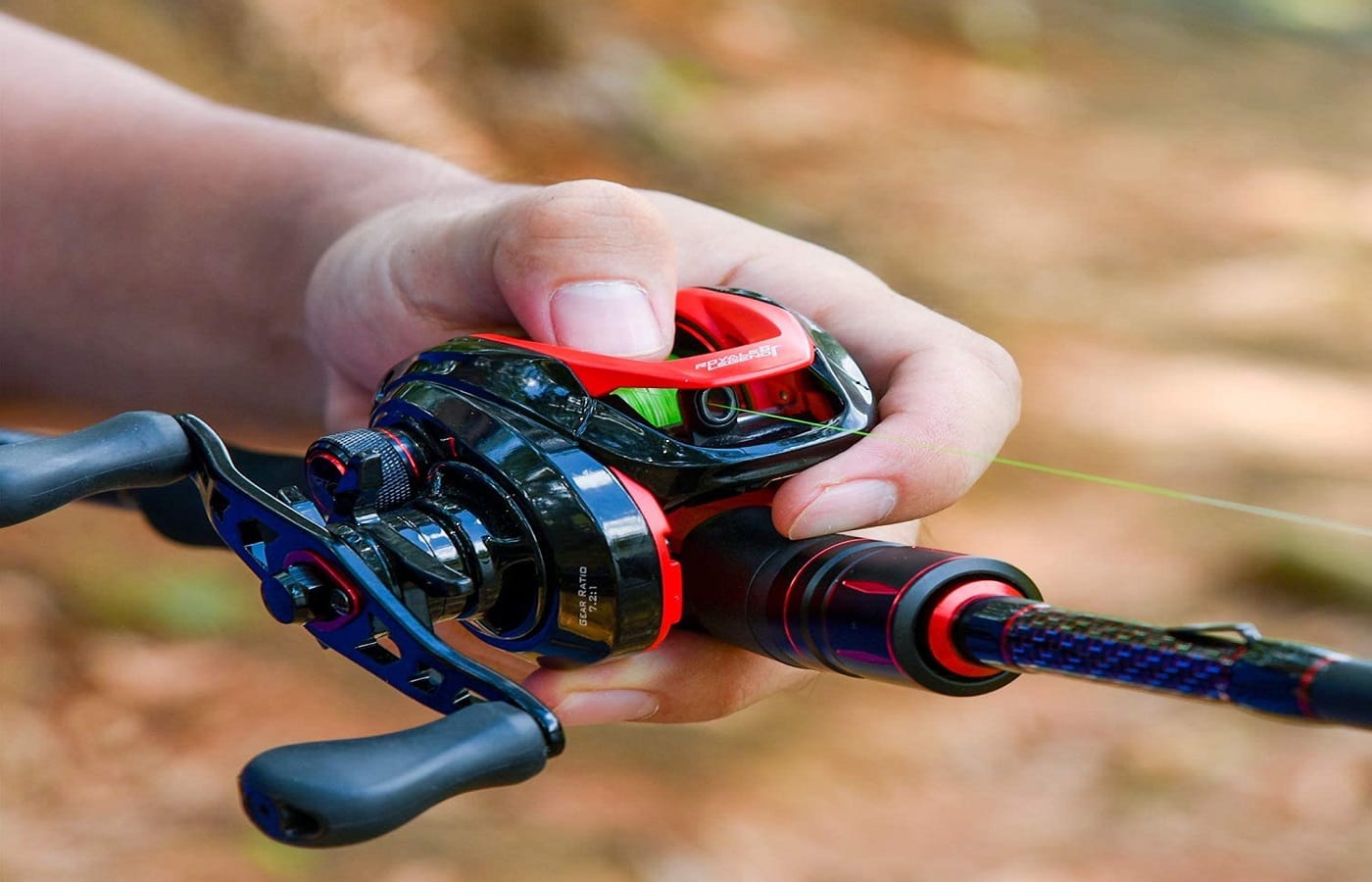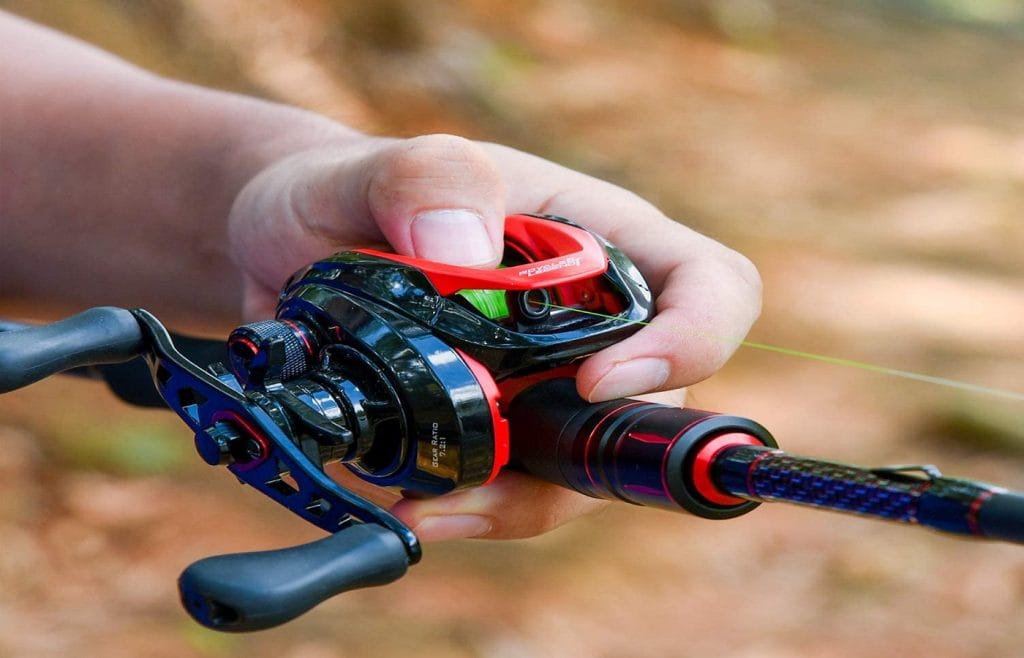 All in all, KastKing Royale Legend GT is a very good pick for beginners. It's a great reel to start casting with, and its pocket-friendly pricing is very attractive. The high gear ratio is a bit weird on a reel of such level, but it should work fine if that's what you specifically need.
The downsides are a little underwhelming, but they aren't something we wouldn't expect from a reel of this level.