If you are shopping for your first ever fishing reel, then consider KastKing Valiant Eagle (the Golden Eagle variant, to be precise). Valiant Eagle is an excellent choice for beginners thanks to its all-around good performance and cheap pricing.
Is it right for you though? Let's find out on our KastKing Valiant Eagle review!
Before we dive into the full detailed review let's take a quick overview of this reel.
KastKing Valiant Eagle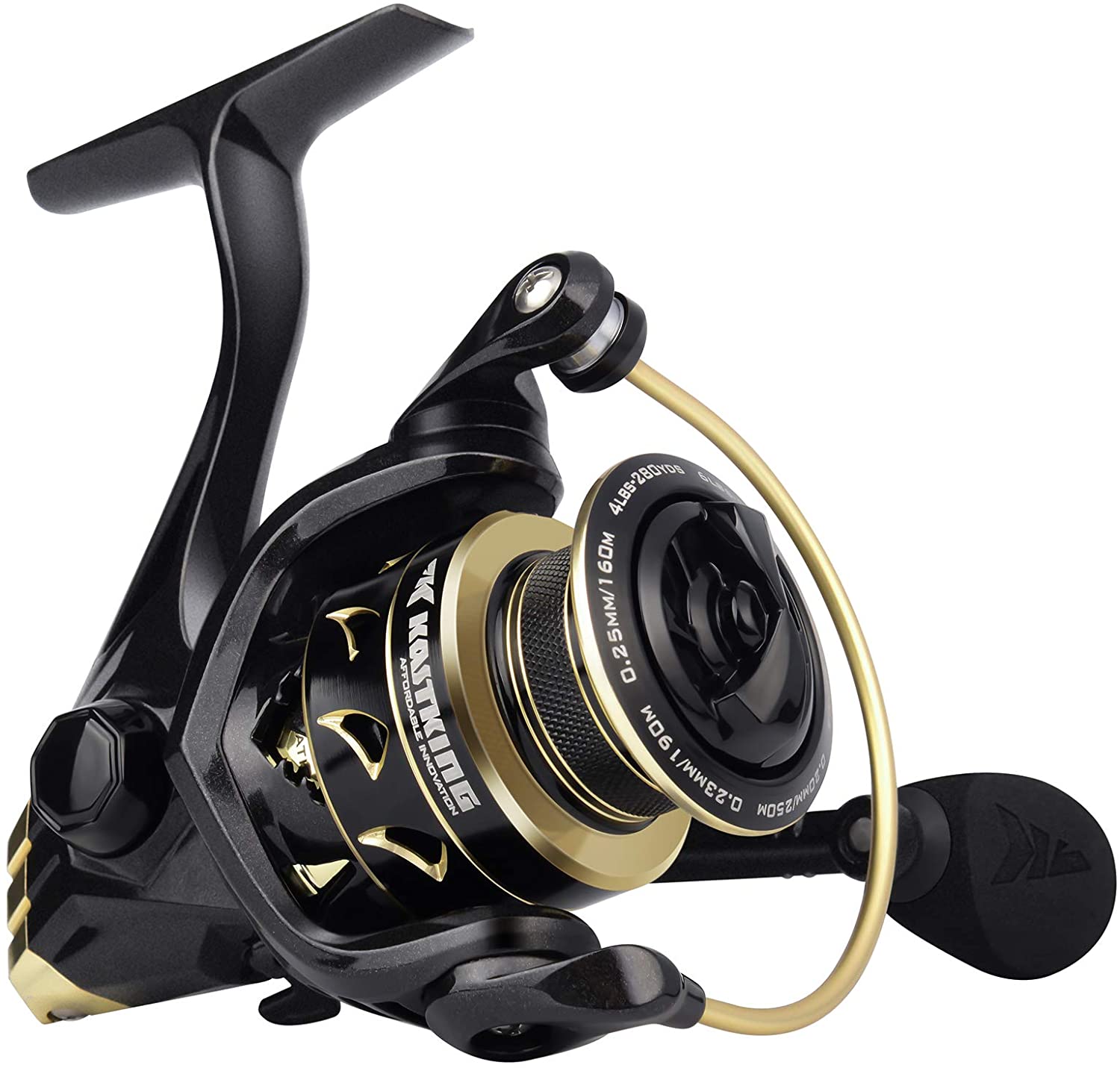 Good quality construction
Great at casting
Smooth & quiet operation
Budget-Friendly
Check Price
KastKing Valiant Eagle Review : Features & Benefits
To give you a taste of what KastKing Valiant has to offer, let's first go over its features & benefits.
In this section, you will also get a comparison of KastKing Valiant Eagle VS KastKing Sharky III
Cool design
4 size options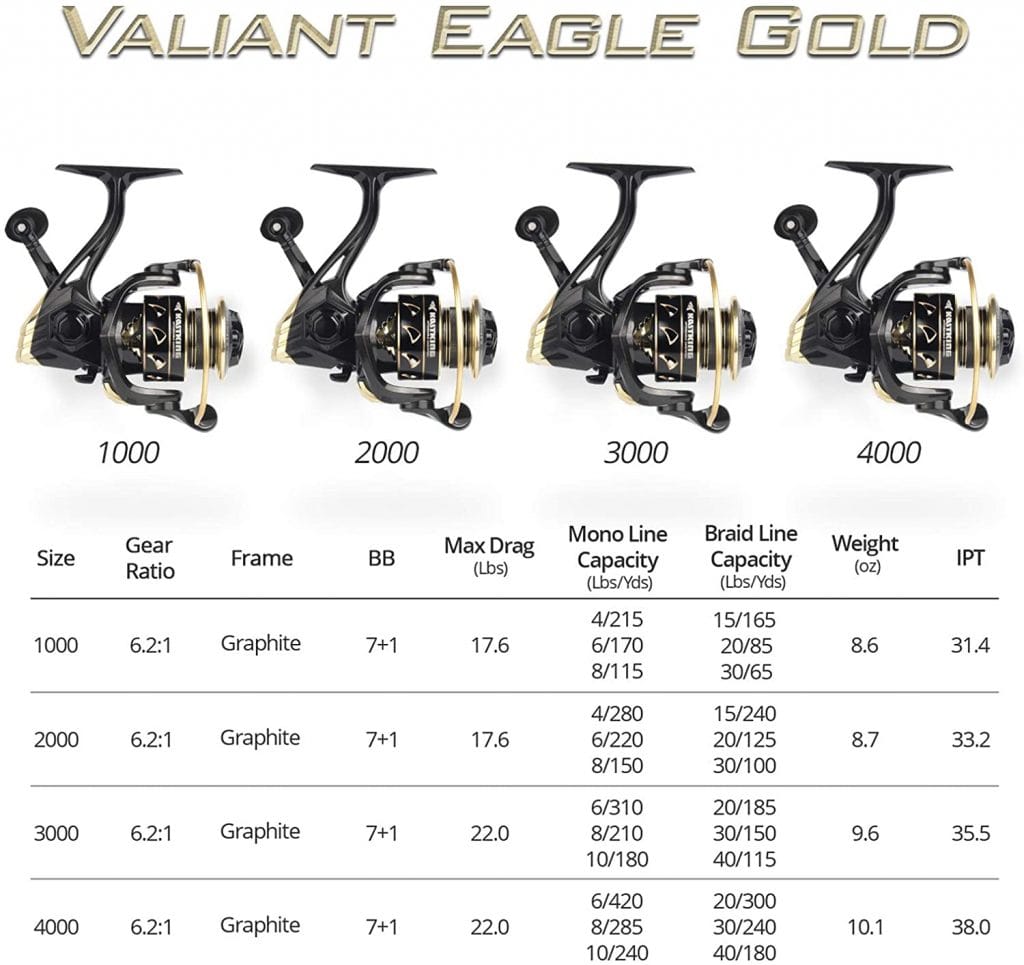 The Valiant Eagle spinning reel is available in 4 sizes – 1000, 2000, 3000, and 4000. What differs between the sizes is:
Drag.
Mono & braid line capacity.
Weight.
Line retrieval rate (in inches per turn).
Other than that, the 4 sizes are identical. Unless otherwise noted, below, our feature descriptions apply to all sizes.
Valiant Eagle's sizing seems more or less similar to what you are getting with other spinning reels, whether from KastKing or other brands. This reel doesn't seem undersized like KastKing Sharky III as well.
Cheap pricing
Valiant Eagle is a low-to-middle-end KastKing reel. It is also closely priced to the KastKing Sharky III spinning reel. We also have an awesome KastKing Sharky III Review, so you should check it out too if you are shopping at this price point.
Valiant Eagle, like Sharky III, is a solid pick for beginners, and its feature set is also good enough for experienced anglers who don't need a high-end, heavy-duty reel.
However, Valiant Eagle is rather different from Sharky III, so they aren't exactly for the same category of fishing. You'll find more information on the differences between these reels as we go through Valiant Eagle's features.
Solid construction with an accent on casting distance
The Valiant Eagle spinning reel offers great build quality at the price. The frame is made of graphite and should hold up well with moderate use. What's nice about Valiant Eagle as well is that it has minimal plastic in it – a lot like Sharky III.
Without diving into the details, these two technologies are aimed at stabilizing the gear system of Valiant Eagle for consistent performance and increased longevity.
KastKing also boasts a patent-pending spool design that increases casting distance. If you want good casting distance at this price point, then Valiant Eagle could be a great pick. But if we are considering all price ranges, Valiant Eagle obviously doesn't offer anything that spectacular.
In terms of weight, Valiant Eagle is on the heavier side. Its weight goes from 8.6 to 10.1 ounces – for comparison, Sharky III's 1000 size starts as low as 7.4 ounces. With that said, since Sharky III is undersized, its lighter weight is not a surprise.
Note that unlike Sharky III, Valiant Eagle doesn't have a water-resistant construction, so you may want to be a little more careful with it.
Medium gear ratio
Aside from that, gears from 6.1:1 to 6.4:1 are great for most techniques and situations. This gear ratio range is particularly popular among bass anglers too.
In contrast, Sharky III has a gear ratio of 5.2:1 and offers way higher torque. Unlike Valiant Eagle that will work in most situations, Sharky III works especially well with deep crankbaits or when fighting fish. This is one of the key areas where Sharky III differs from Valiant Eagle.
With that, Valiant Eagle isn't as specialized as Sharky III and is a better choice for beginners. Its gear ratio is easy to get used to as well – both fast and slow cranking is easy with it.
Medium drag & line capacity
The second area where Valiant Eagle differs from Sharky III is drag and line capacity (specifically, line strength).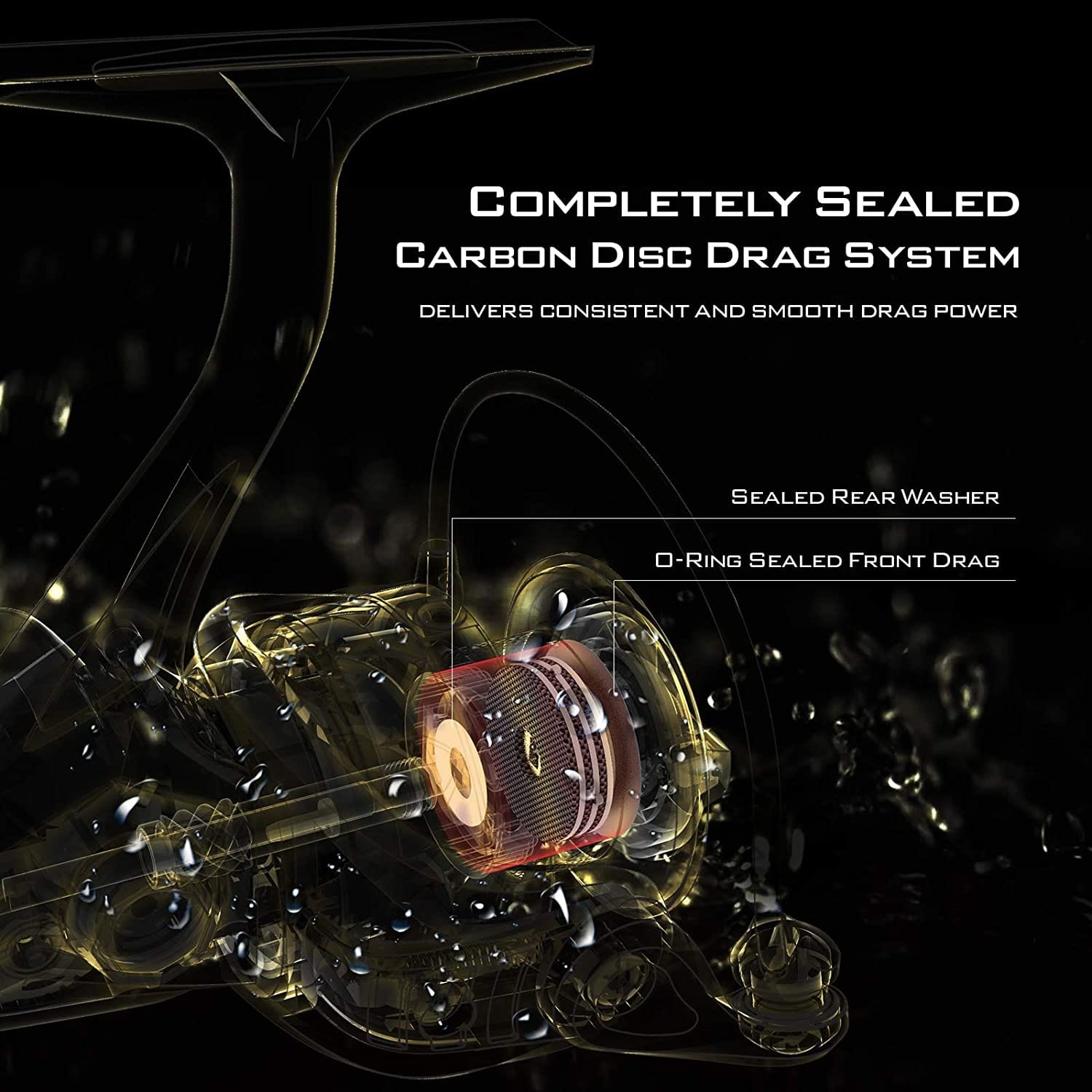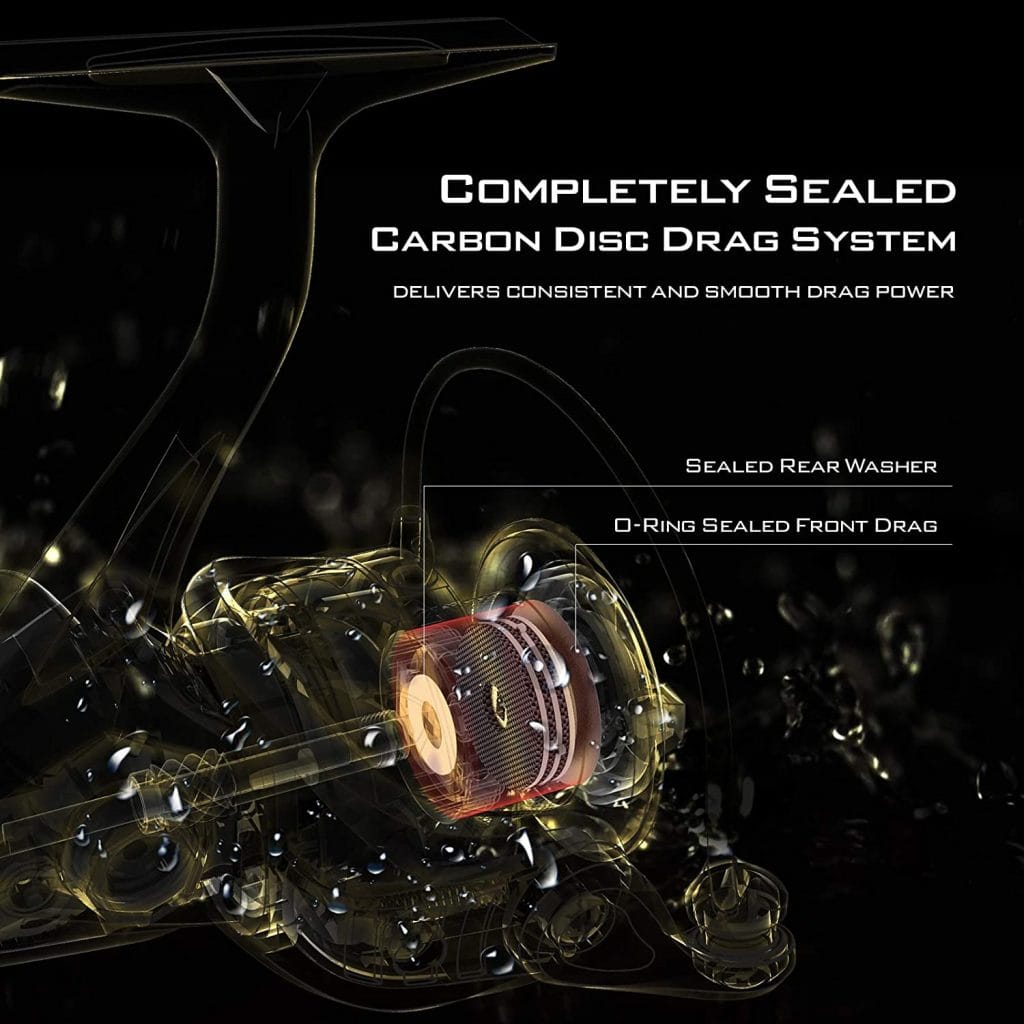 The max drag in Valiant Eagle reels ranges from 17.6 to 22 pounds, depending on the size.
For comparison, Sharky III went from 33 to 39.5 pounds. Sharky III is therefore clearly intended for heavier angling.
If you look at line capacity specs, you will again see that Sharky III can handle heavier lines. For example, size 4000 of Valiant Eagle is rated for up to 20/200, 30/240, and 40/180 braid, while Sharky III 4000 is rated for 40/140, 50/120, 65/80 braid.
And this is despite the fact that Sharky III's 4000 is undersized and physically smaller.
You can see the same picture with monofilament lines.
So all in all, Valiant Eagle is intended for lower strength but higher lengths. Clearly, Valiant Eagle is designed for casting, which pairs well with its patent-pending & casting-oriented spool.
Smooth operation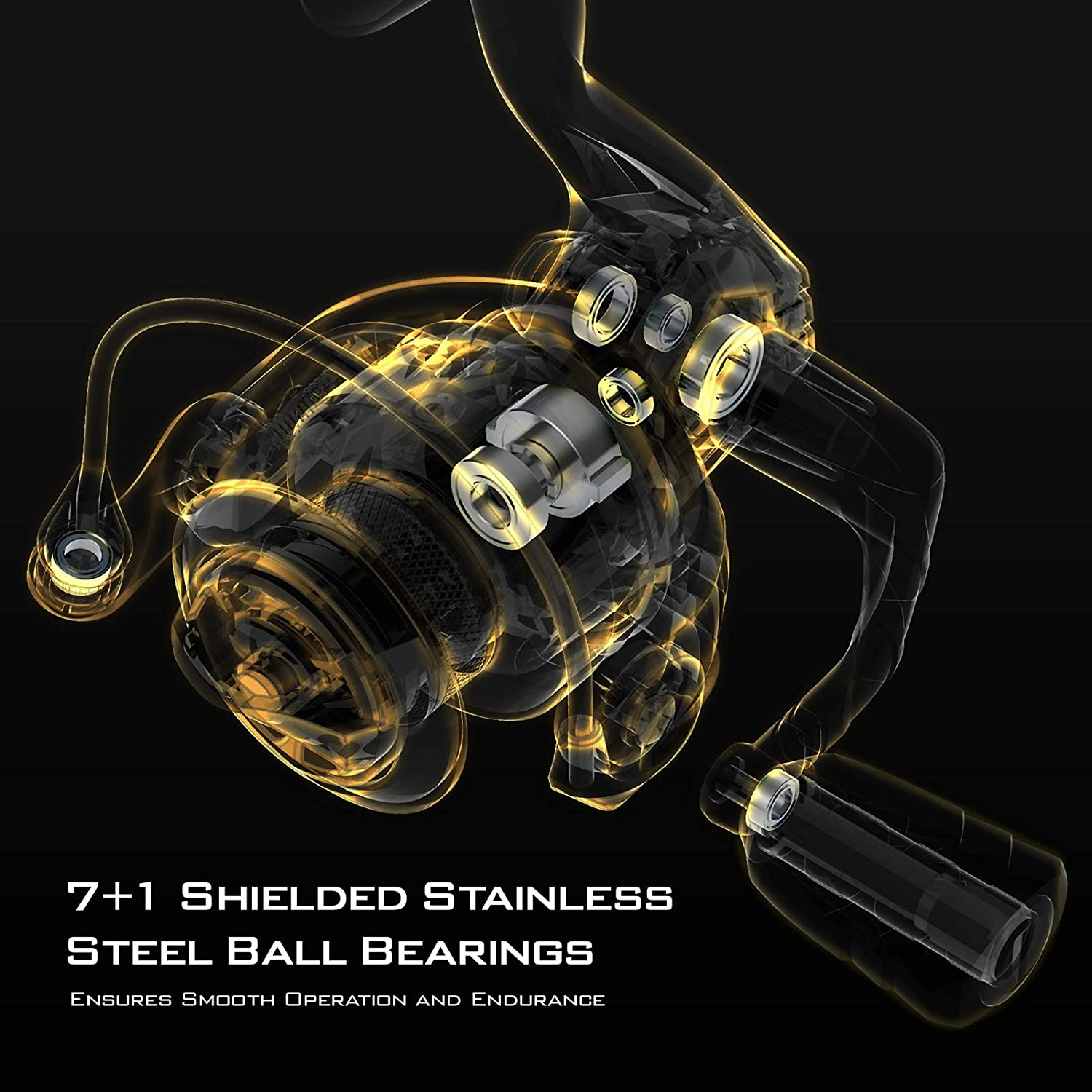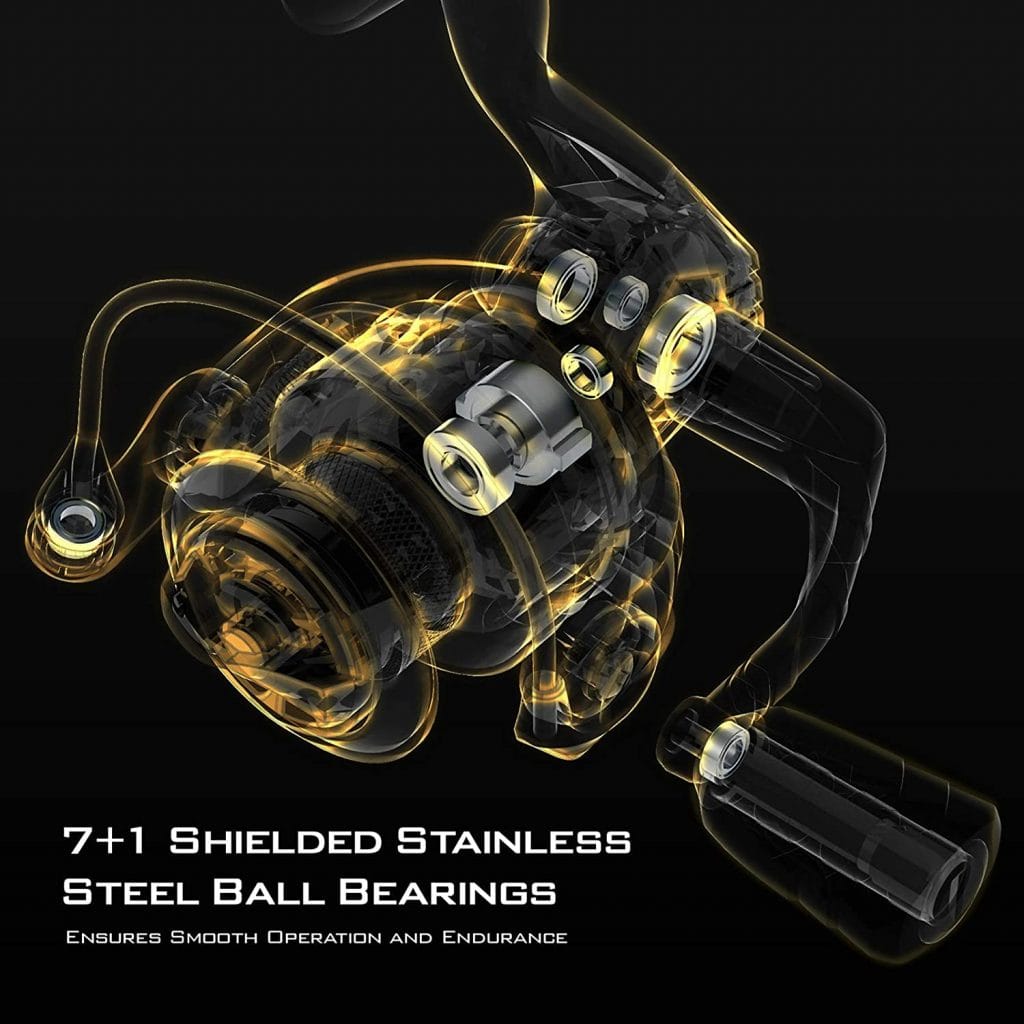 Finally, the operation of Valiant Eagle is smooth thanks to its 7+1 MaxiDur-shielded stainless steel bearings.
In terms of quietness and smoothness, Valiant Eagle is similar to Sharky III. Both offer excellent feel and very smooth operation at their price point.
KastKing Valiant Eagle VS KastKing Sharky III
We've prepared this comparison table to give you a quick overview. This should help you decide which reel is better for you.
Property
Valiant Eagle
Sharky III
Image
Gear Ratio
6.2:2
5.2:1
Max Drag
(lbs)
17.6 – 22.0
33.0 – 39.5
Ball Bearing
7 + 1
10 + 1
Mono Line Capacity
(YDS/LBS)
4/125 6/170
–
6/420 8/285
6/200 8/170
–
12/220 14/190
Braid Line Capacity
(YDS/LBS)
15/156 20/85
–
20/300 30/240
20/200 30/170
–
50/220 60/190
IPT
(Inches Per Turn)
31.4 – 38.0
27.8 – 33.8
Price
Downsides Of KastKing Valiant Eagle
Valiant Eagle doesn't seem to have downsides worth mentioning. Of course, it's not a perfect spinning reel for every situation. It's a cheap reel, after all, and isn't the best for heavy-duty uses. But for the money, it offers excellent value.
KastKing Valiant Eagle Pros & Cons
For a summary of what we've talked about, here are Valiant Eagle's pros & cons.
PROS
Cool-looking.

Pocket-friendly.

Multiple sizes.

Good quality construction.

Great at casting.

Excellent for most fishing needs.

Smooth & quiet operation.
CONS
Nothing really to mention.
If you still having trouble choosing your spinning reel, We have 10 Best Saltwater Spinning Reels Review and 10 Best Inshore Spinning Reels Review for you. Make sure you check that out.
KastKing Valiant Eagle Video Review
In this section KastKing Valiant Eagle Review, we want to help you get a visual overview of this awesome reel.
Our Verdict On KastKing Valiant Eagle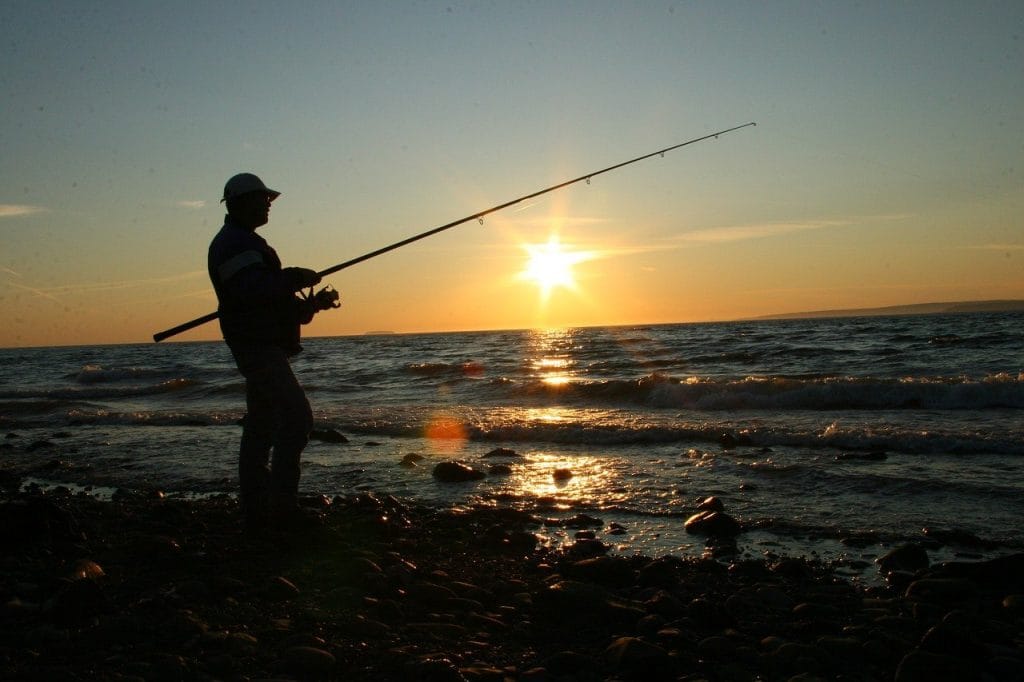 KastKing Valiant Eagle will work for most fishing needs and is thus a great pick for beginners. It will also work for experienced anglers who don't need much to be happy with their reel. But note that if you want torque and power, then Sharky III would be better thanks to its low gear ratio.