Among KastKing's spinning reel offerings, Sharky III is perhaps the most attractive thanks to its pricing and predominantly positive buyer reviews. With that said, spinning reels can be very different, so it's difficult to tell if Sharky III would truly work for you well.
In our KastKing Sharky III review, our goal is to introduce you to the features and benefits of Sharky III and help you determine if it's the optimal pick for you. Let's take a quick overview and get started without further ado!
QUick Overview
KastKing Sharky III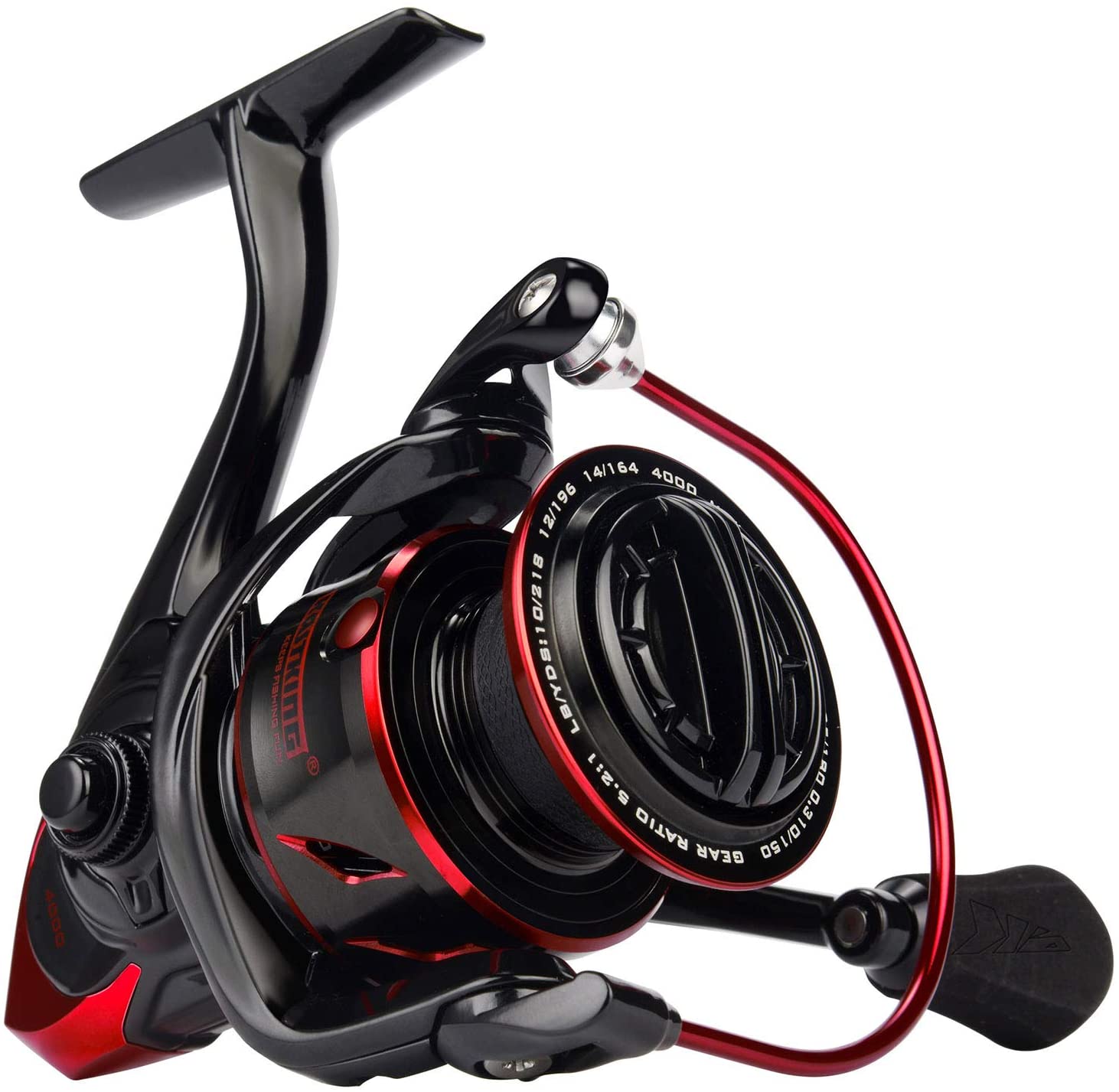 Offers great value for the money.

Water-resistant and suitable for saltwater fishing.

Low gear ratio with high torque.

High drag.
Check Price
KastKing Sharky III Review : Features & Benefits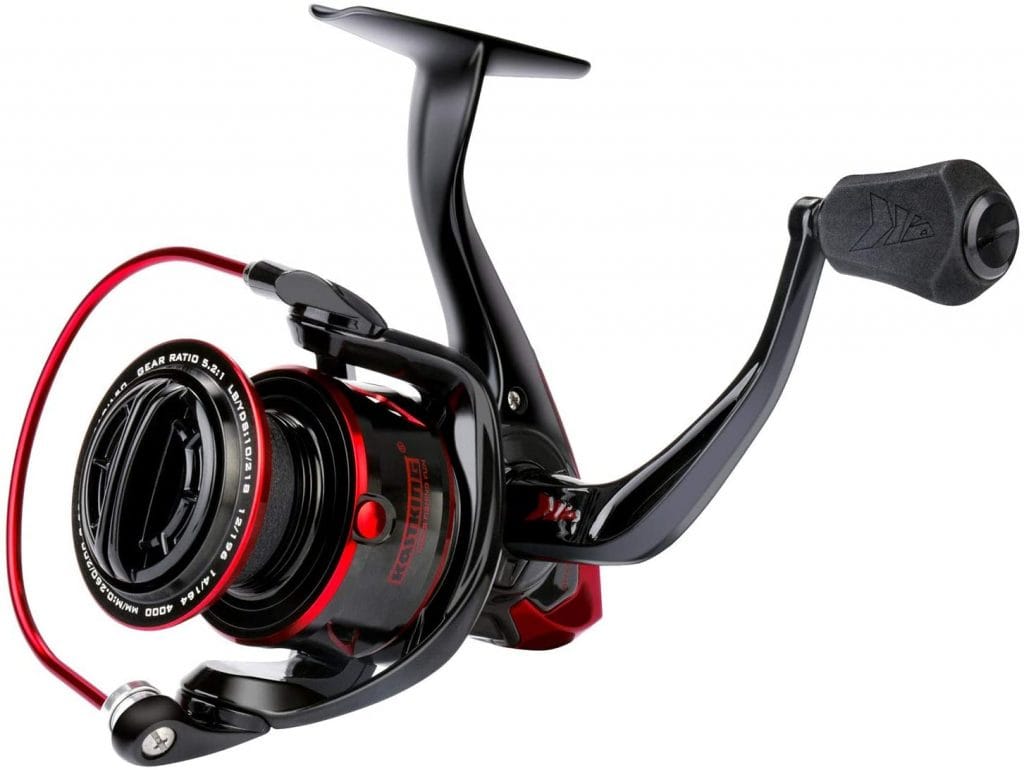 In this section, let's have a good look at the features of the Sharky III spinning reel.
5 different sizes
The Sharky III line actually has spinning reels of several sizes – from 1000 to 5000. The main things that differ between these are:
Drag.
Mono & braid line capacities.
Line retrieval rate (inches per turn).
Reel weight.
In other aspects, the reels are pretty much identical.
Given that there are several sizes in the Sharky III reel line, we will try to cover all of them below. Unless otherwise specified, note that we will be talking about the entire Sharky III series.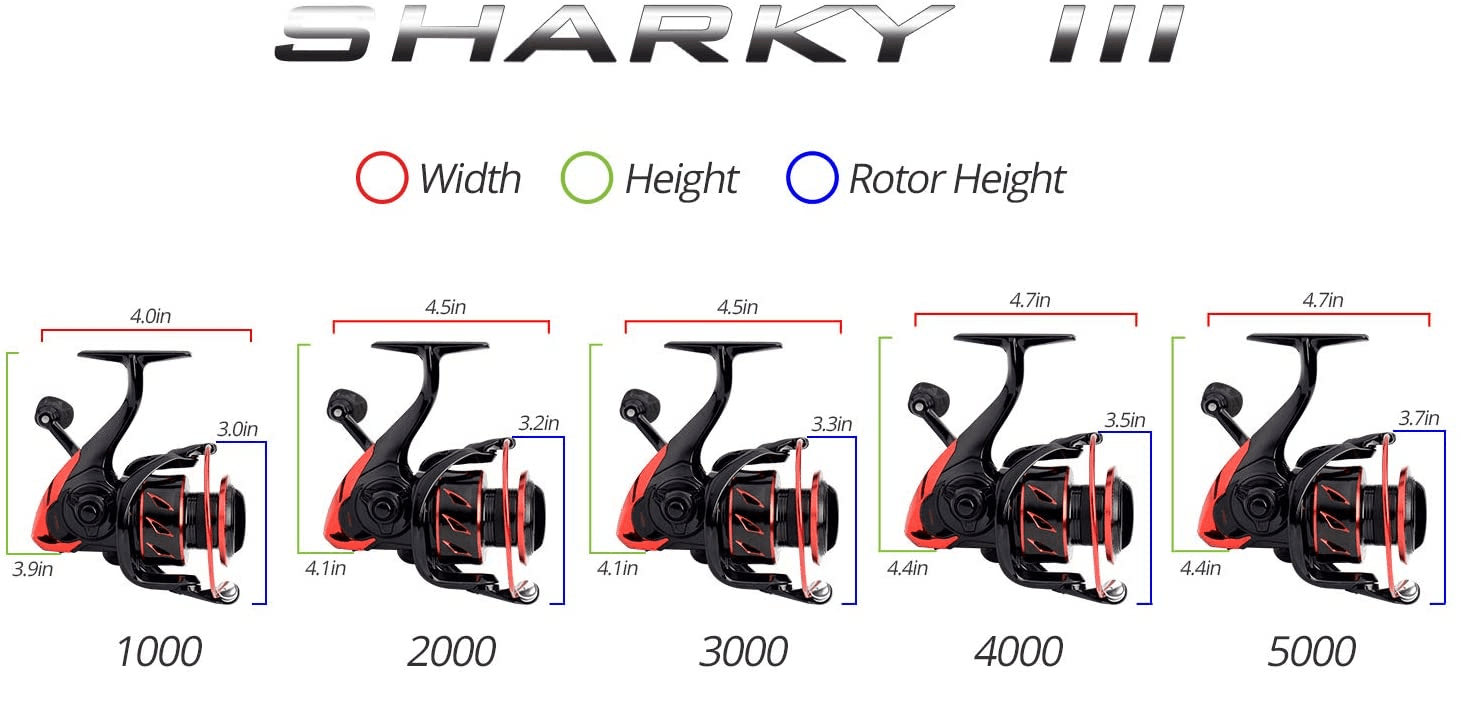 SIZE
GEAR RATIO
IPT
BB
MAX DRAG
(Lbs)
MONO LINE
(Lbs/Yds)
BRAID LINE
(Lbs/Yds)
WEIGHT
(Oz)
PRICE
100
5.2:1
27.8
10+1
33.0
6/200
8/170
10/130
20/180
30/95
40/75
7.4
Check Price
200
5.2:1
27.8
10+1
33.0
6/220
8/190
10/140
20/200
30/105
40/85
9.1
Check Price
300
5.2:1
29.7
10+1
33.0
8/220
10/175
12/130
30/120
40/100
50/85
9.2
Check Price
400
5.2:1
31.8
10+1
39.5
10/220
12/200
14/170
40/140
50/120
65/80
10.2
Coming
Soon
500
5.2:1
33.8
10+1
39.5
12/220
14/190
16/160
50/140
65/90
80/75
10.6
Coming
Soon
Pocket-friendly pricing
Sharky III is among the cheaper spinning reels you can find on the market. In KastKing's spinning reel assortment, it's a middle-range reel. In entire market terms, it's probably in the low-to-middle end.
This makes Sharky III a great pick for beginners who want to get something decent for not too much money. More experienced anglers may get a Sharky III reel too, but only if they won't be fishing frequently.
Quality water-resistant housing
With that said, Sharky III probably shouldn't be submerged. It's only water-resistant, not waterproof. Splashes will be fine for it, but submersion most likely won't.
The build quality, all in all, feels very solid in Sharky III. The graphite frame isn't the most durable you can find on the market, but it should hold up well with moderate use. Sharky III also has durable small details, like the aluminum handle, the stainless steel main shaft, and minimum amounts of plastic.
In terms of weight, Sharky III is on the heavier side. The 1000 size only weighs 7.4 pounds, but all larger Sharky IIIs are about 9-10 ounces. The larger sizes may fatigue newbies faster, but they feel nice and solid in the hand thanks to their heft.
Low gear ratio & high torque
Sharky III spinning reels all have a low gear ratio of 5.2:1. However, the line retrieval rate (measured in inches per turn) differs from size to size, ranging from 27.8 to 33.8 inches. The difference in line retrieval rate is due to the size differences in the reels.
5.2:1 is considered a low gear ratio, and it's excellent when you need a lot of torque. More specifically, this gear ratio would be excellent for deep-diving crankbaits, big swimbaits, and fighting the fish.
Low gear ratios are also easier to work with, which makes Sharky III a good pick for beginners.
With that said, such a low gear ratio makes this a specialist reel. It's great when you need a lot of torque, but Sharky IIIs aren't all-rounders like reels that have 6.1:1 to 6.4:1 ratios. This isn't necessarily a downside – just a thing to keep in mind.
High drag
Smooth & quiet operation
Needless to say, the bearing configuration of Sharky III won't compare in smoothness with that of higher-end reels. The quality of the bearings is quite important, and usually, the lower the reel price, the lower the bearing quality.
The bearings in Sharky III are also saltwater-rated, so this thing could be used both for saltwater and freshwater fishing.
Sharky III reels have anti-reverse as well which engages quickly and seems to hold up with moderate use.
Good line capacity with an accent on line strength
How much fishing line you can use depends on the chosen reel size, but each Sharky III size is pretty nice in this area.
Check the spec sheet of this spinning reel model to find out the exact test capacity of each size. Larger reels support longer lines with added strength.
Downsides of KastKing Sharky III
Sharky is overall an excellent spinning reel for the price, but it has one pretty weird downside that you should know about.
Smaller sizing than competitors
Sharky III appears to be undersized – at least, when you are comparing it with competitor spinning reels. Depending on which reel you compare Sharky III to, it's every size seems to actually be 1-2 sizes smaller.
This isn't a deal-breaker, but you should carefully look at available options and make sure that you go for the right size for your needs.
KastKing Sharky III Review : Pros & Cons
Sharky III can be labeled as KastKing's most All rounder reel. And as a recap, here are the pros and cons of Sharky III.
PROS
Several sizes.
Priced very pocket-friendly.
Offers great value for the money.
Water-resistant and suitable for saltwater fishing.
Good build quality.
Low gear ratio with high torque.
High drag.
Very smooth & quiet.
KastKing Sharky III Torture Test Video
Our KastKing Sharky III spinning reel review will not be complete without a video to guide you properly. This video may help you understand the amount of stress this reel can handle and how smooth it performs under pressure.
---
KastKing Sharky III Alternates
The best competitor of KastKing Sharky III will be Penn Battle II and Daiwa BG Spinning Reels.
Though Sharky III is a real deal-breaker, this reel might not interest some of you. That's why we have 10 Best Saltwater Spinning Reels Reviewed so that you can choose the reel that suits you most.
Also, you can check our 10 Best Inshore Spinning Reels Review for more choices.
---
Our Verdict On KastKing Sharky III
At the end of our KastKing Sharky III Review, we just want to say Sharky III is an excellent spinning reel for all categories of anglers. It will delight experienced anglers with its excellent quality and value for the price, while newbies will have the chance to learn to fish with an all in all solid spinning reel.